OEEC 2022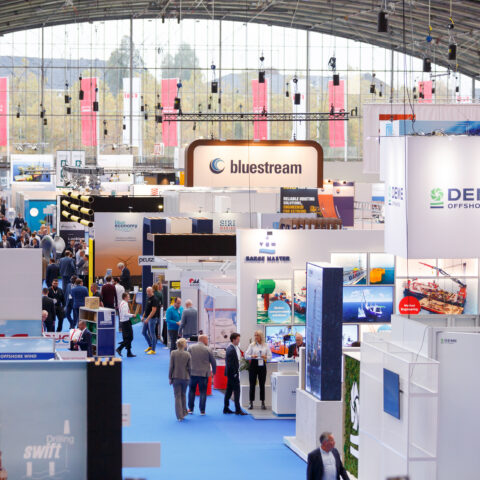 Offshore Energy Exhibition & Conference
28 & 29 November 2023 | RAI Amsterdam | The Netherlands
Sustainability now comes in many forms, and as a producer of dredging equipment or a dredging contractor, you want to expand the industry knowledge, data and expertise to make a positive difference. One of the main questions here is: what are your priorities when it comes to creating sustainable dredging solutions?
Offshore Energy Exhibition & Conference (OEEC) is the only event of its kind in Europe that brings together international players from the entire offshore energy supply chain across different markets.
From the start and throughout each stage of a dredging project – social, environmental, and economic – objectives should be systematically considered and integrated. OEEC puts a spotlight on each and every one of these factors.
Last year, we saw major players from the oil & gas sector and offshore wind booked their stands- with more and more dredging companies joining this exciting game. Join us this November at OEEC 2023!
STAND OPTIONS
Participate with a stand and maximise your visibility by being part of this two day event filled with networking opportunities, matchmaking, collaborating with peers, doing business and broadening your horizon.
Explore options
EVENT SPONSORING
By sponsoring this event, your company is visible in pre-event and onsite communication materials and your branding will be noticed by thousands of visitors, exhibitors and online users.
For more information and prices contact our sales team [email protected]
CONFERENCE SESSIONS
To bring different sector developments in the limelight, the exhibition will host a content program with panel discussions, presentations and interviews. With the leading theme of this edition, 'Changing Currents', leaders and experts from the industry will share thoughts and visions on how to create the offshore energy landscape of the future.
THE STAGE 
At the open stage on the exhibition floor, different aspects of the offshore energy sector are placed in the spotlight. Companies, experts and students share market insights, product solutions and fresh perspectives. The content recorded on The Stage is instantly available for sharing online and on social media for promotional purposes.
MATCHMAKING
Meet, share knowledge and get to know each other with the Matchmaking program. When registering for our event, you get the option to opt-in for the matchmaking program. If you are an exhibitior, you will get this option when registering your stand personnel through the exhibitor portal.
The event is an opportunity to get in touch with industry players like:
Van Oord, Damen Shipyards, Deme Offshore, Royal IHC, North Sea Port, Holland Shipyards Group, Huisman, Neptune Marine, Emcé Winches and many more.

The event is organized by our colleagues from Offshore Energy, also part of Offshore WIND's mother company Navingo BV.
Visitor Profile:


Sonja Chirico IndrebØ
Power Plant Manager for Dudgeon Offshore Wind Farm Ltd & Hywind Scotland Ltd at Equinor
This is a very good event where you get the chance to see across your own industry and you have a chance to copy from the best. So, we are looking at renewables and we are also looking at how to decarbonize our oil and gas

Paul de Leeuw
RGU Energy Transition Institute
It's been a tremendous exhibition and conference. I like the 'can-do' attitude! People really want to make a difference. I've seen a high energy here, which I think is superb for the future we want.

Edu Willemse, Senior Energy Advisor
Netherlands Enterprise Agency
This is the fourth time that the join the OEEC. We have a strong focus on offshore wind and this year we decided to also to bring in foreign managers and government officials from the hydrogen sector. In the Netherlands, we have a great ambition to boost the hydrogen sector.


Ms. Liz Burdock, President & CEO
Business Network US Offshore Wind
With the offshore wind pipeline increasing in the United States, there is a supply chain capacity issues. So we need European companies to partner with US companies.

Joost Eenhuizen, Business Manager Maritime & Offshore Industry
Port of Rotterdam
Everybody is looking forward to see each other and get re-connected in real life. We missed the opportunity to meet each other physically. The offshore energy industry in Rotterdam is really based on interpersonal connections.


Robert Plat, Principal Consultant Offshore
Royal IHC
We are looking for new business, and everybody else is looking for new business. That is the big success of this conference: everyone wants to do something, start a new collaboration.


Roel de Graaf, Director
Netherlands Maritime Technology
We are focusing more and more on emission reduction and automation of vessels. Sustainability is very important for the maritime industry, because the whole world is connected by sea and if we want to stay in the game, we have to do our part in the emission-free shipping.