Texas Delegation Shows Support for the Corpus Christi Project
The Port of Corpus Christi's Ship Channel Improvement Project (CIP) received additional support from bipartisan Members of the Texas Congressional Delegation in a recent letter sent to the U.S. Army Corps of Engineers urging that more funds be designated to it this year.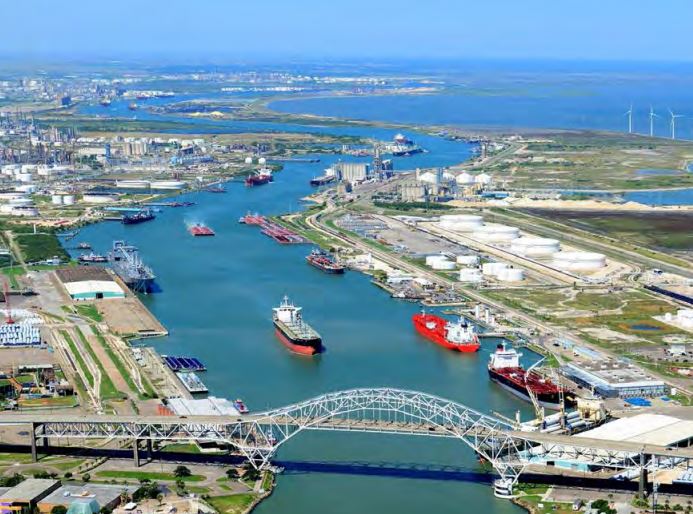 U.S. Reps. Kevin Brady, Chairman of the Ways & Means Committee, Mike Conaway, Chairman of the Agriculture Committee, Mac Thornberry, Chairman of the Armed Services Committee, Lamar Smith, Chairman of the Science, Space and Technology Committee, Henry Cuellar, Filemon Vela, Vicente Gonzalez and Blake Farenthold see an opportunity for the USACE to use additional discretionary funds provided by Congress in the Omnibus spending package to complement the $32 million the Port accelerated to the USACE per the Project Partnership Agreement last year.
Providing sufficient funding this year will allow the Galveston District (SWG) to execute the first two contracts for the CIP. As noted in the letter, the CIP will expand the Port's ship channels, allowing more – and larger – supertankers and liquefied natural gas (LNG) vessels to navigate the channel safely, affording American energy companies the ability to continue the expansion of U.S. energy exports abroad.
Overall, the CC Ship Channel Improvement Project (CIP) will widen the channel to 530 feet, plus add additional barge shelves, to allow for two way vessel and barge traffic, and deepen the CC Ship Channel to 54 feet MLLW (Mean Lower Low Water).
"Funding the CIP is an opportunity to invest in a national transportation asset that would allow U.S. companies and the Port of Corpus Christi to significantly increase export capacity and help solidify the U.S. as a world energy leader," the letter read.
The entire project is estimated to cost $327 million with the USACE proportionate cost-share projected to be $225 million and the PCCA proportionate cost-share projected at $102 million. These funds are intended for use in the design and construction of the deepening of the CC Ship Channel from the Gulf of Mexico to Harbor Island.