GLDD at Jacksonville Harbor Deepening: Spotlight on Texas's Cutterhead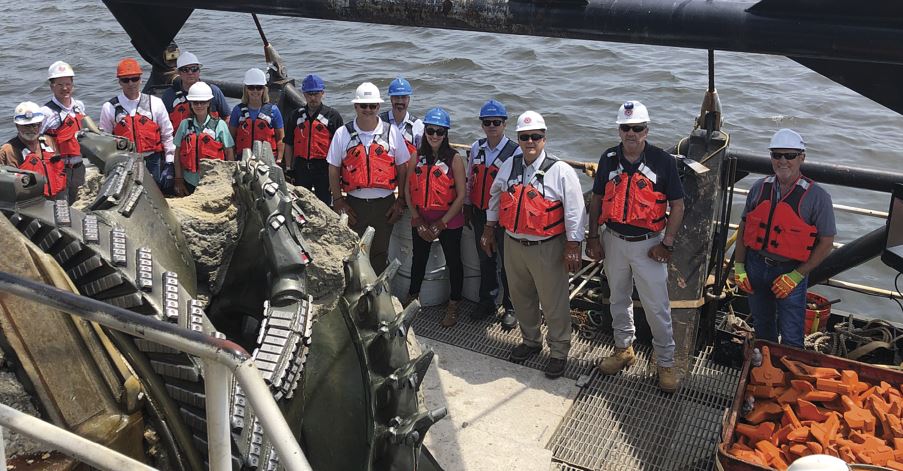 Great Lakes Dredge and Dock Company (GLDD) recently hosted a tour of their cutter suction dredger Texas at the Jacksonville Harbor Deepening Project.
Great Lakes' personnel, which included Armand Riehl, Russ Zimmerman, and Captain Joyner, hosted senior officials from the following organizations: Florida Department of Environmental Protection, Florida Department of Transportation, Florida Ports Council, Jacksonville Port Authority, and Littlejohn, Mann & Associates.
"Among the many interesting events of that day, our visitors were shown the components of the Texas's cutterhead; learned about important topics such as our commitment to a company-wide safety culture and our efforts to protect the wildlife and environment during project operations; and had the opportunity to observe dredging operations in person," GLDD said in its announcement.
In September 2018, GLDD was awarded the $113 million base contract on the Jacksonville Harbor Construction Dredging Contract 'B' 47-Foot Project.
Dredging started in the fourth quarter of 2018 with an expected completion of both base contract and options in the second quarter of 2021.
The deepening of the Jacksonville Harbor is an important project for Florida and for Jaxport with major economic benefits and employment opportunities expected from the resulting increase in trade volumes.
Related news
List of related news articles