The Maryland Department of Transportation (MDOT) and the MDOT Maryland Port Administration (MDOT MPA) have renewed and expanded a voluntary Memorandum of Understanding (MOU) with the Maryland Department of the Environment (MDE) and Maryland Energy Administration (MEA) to strengthen environmental initiatives at the Helen Delich Bentley's state-owned, public marine terminals.
The agreement calls for a continued committed effort to reduce diesel and greenhouse gas emissions and increase energy efficiency at the Port. The pact extends the original MOU signed five years ago by the agencies and adds MEA as a new partner.
"As this agreement shows, Baltimore continues to be a leader among green ports globally and Maryland continues to be a leader among states pushing relentlessly for clean air, public health, and climate action," Environment Secretary Ben Grumbles said.
"The public and private partners at the Port of Baltimore show every day that environmental stewardship can and must go hand-in-hand with job expansion and economic growth," MDOT Secretary Greg Slater added.
"Reduction of diesel emissions, creative reuse of dredged material and projects like the Howard Street Tunnel expansion – which will increase rail capacity and reduce truck fuel consumption – are elements of our environmental commitment supported by this MOU."
As part of the agreement, the participating agencies meet monthly to discuss relevant air quality objectives, share information and collaborate to seek federal funding for air quality enhancement projects. MDE and MEA will provide technical assistance and assist with identifying and applying for both state and federal grants.
"This MOU represents a strong commitment by the Maryland Port Administration to our environment," said MDOT MPA Executive Director William P. Doyle.
"We pledge to continue working closely with our environmental, labor and private sector partners such as the trucking community and Ports America Chesapeake to further reduce pollutants and clean the air at our marine terminals, and to reuse dredged sediment from shipping channels to rebuild long-eroded islands, creating native habitat and preparing for possible impacts from climate change."
Coastal restoration is another focus of MDOT MPA. The agency's Dredged Material Management Program uses sediment dredged from shipping channels leading to the Port of Baltimore to restore wetlands and eroding islands.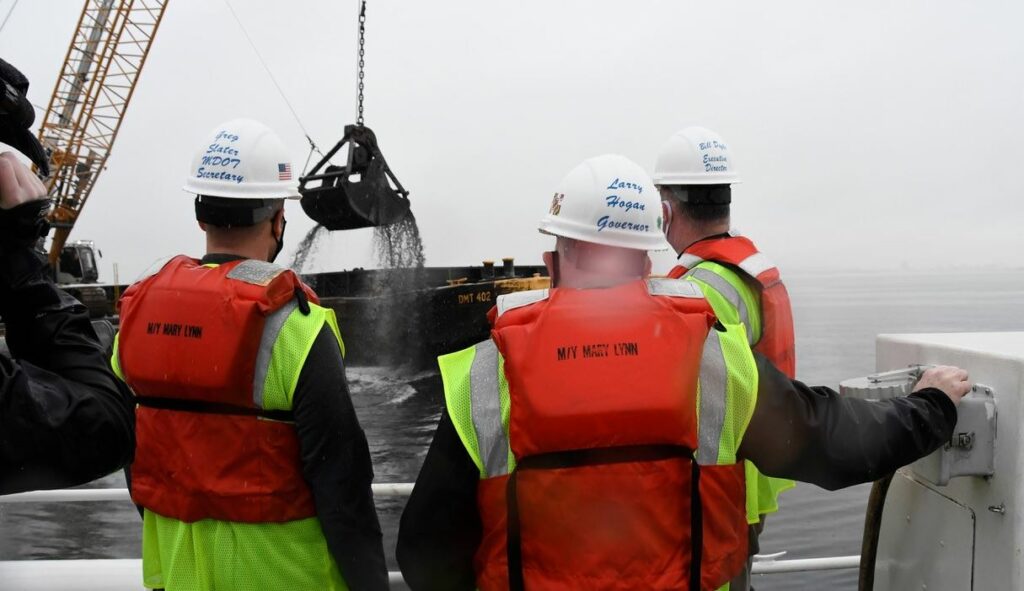 Recently, construction was completed on the expansion of Poplar Island near Talbot County, adding 575 acres and capacity for another 28 million cubic yards of sediment through 2032.
MDOT MPA and USACE are now working on pre-construction engineering and design for the Mid-Chesapeake Bay Island Ecosystem Restoration, which will rebuild James and Barren islands near Dorchester County and eventually replace Poplar Island as the state's primary site receiving bay channel dredged sediment.
The project will rebuild two barrier islands, creating habitat and providing much-needed shoreline protection in Dorchester County. Pending permits, restoration at Barren Island could begin in 2022 with James Island following in 2024.