Steel cut for the first US-built Damen Multi Cat
As reported earlier this month, Conrad Shipyard LLC has begun construction of two Damen Multi Cats 3013 for Great Lakes Dredge & Dock Corporation.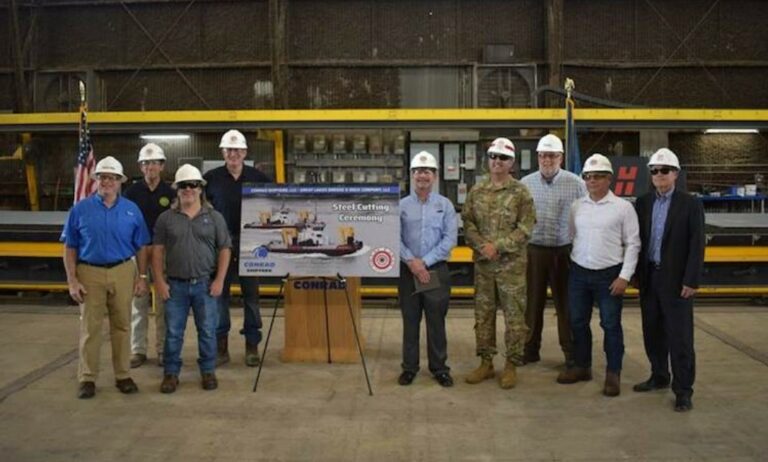 The construction of GLDD's Multi Cats started with the ceremonial steel-cutting ceremony that was held at Conrad's facility in Morgan City (La) on Tuesday, July 13, 2021.
The two newbuilds will be the first Damen Multi Cats built in the USA.
Fully compliant with the US Coast Guard and Army Corps stability criteria, the versatile boat of Damen's Multi Cat 3013 design is the ideal platform for dredging support operations.
With its large winches and deck cranes, the Multi Cat can perform a wide range of tasks including handling submerged and floating pipelines as well as anchor handling and logistics supply. Large tank capacities onboard will ensure the Multi Cats can also supply dredgers with the required replenishments.
The Multi Cat brings efficiency to a project, eliminating the need for assorted floating support equipment such as derrick barges, tow boats and anchor barges.
It also significantly increases operational safety of operations, enabling hose and pipe maintenance works to take place securely on deck reducing the risk of man overboards compared to standard industry methods utilizing  floating pontoons.
The hand over of the two newbuilds has been set for late 2022.