Van Oord reaches milestone in Afsluitdijk project
A milestone worth celebrating has been reached in the Afsluitdijk project in the Netherlands, Van Oord announced today.
"𝗗𝘂𝗿𝗶𝗻𝗴 𝗠𝗮𝘆, 𝘁𝗵𝗲 𝗹𝗮𝘀𝘁 𝗼𝗳 𝘁𝗵𝗲 𝟳𝟬,𝟬𝟬𝟬 𝗟𝗲𝘃𝘃𝗲𝗹-𝗯𝗹𝗼𝗰𝘀 𝘄𝗲𝗿𝗲 𝗶𝗻𝘀𝘁𝗮𝗹𝗹𝗲𝗱 𝗯𝘆 𝗩𝗮𝗻 𝗢𝗼𝗿𝗱'𝘀 𝗰𝗿𝗮𝗻𝗲 𝗽𝗼𝗻𝘁𝗼𝗼𝗻 𝗧𝗶𝘁𝗮𝗻," said the company.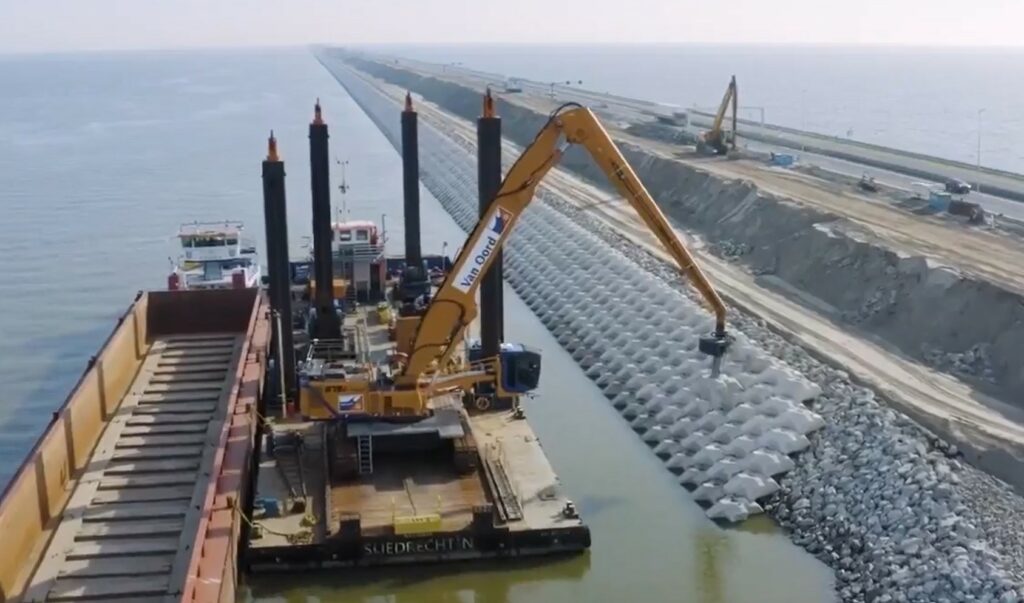 Levvel-blocs, another name for the innovative XblocPlus blocks, are concrete armour units developed especially for the Afsluitdijk to raise and reinforce the dike.
Compared to the alternative, the innovative Levvel-blocs take 𝟯𝟱% 𝗹𝗲𝘀𝘀 𝗰𝗼𝗻𝗰𝗿𝗲𝘁𝗲 to produce.
This is equal to approximately 200,000 cubic metres of concrete and means a 𝗖𝗢𝟮 𝗿𝗲𝗱𝘂𝗰𝘁𝗶𝗼𝗻 𝗼𝗳 𝟰𝟬,𝟬𝟬𝟬 𝘁𝗼𝗻𝗻𝗲𝘀 or no less than 56%