Final Designs for San Francisco Defenses
Nine teams have presented their final design to make specific areas in San Francisco more resilient to sea level rise, severe storms, floods and earthquakes, reports the Dutch Water Sector.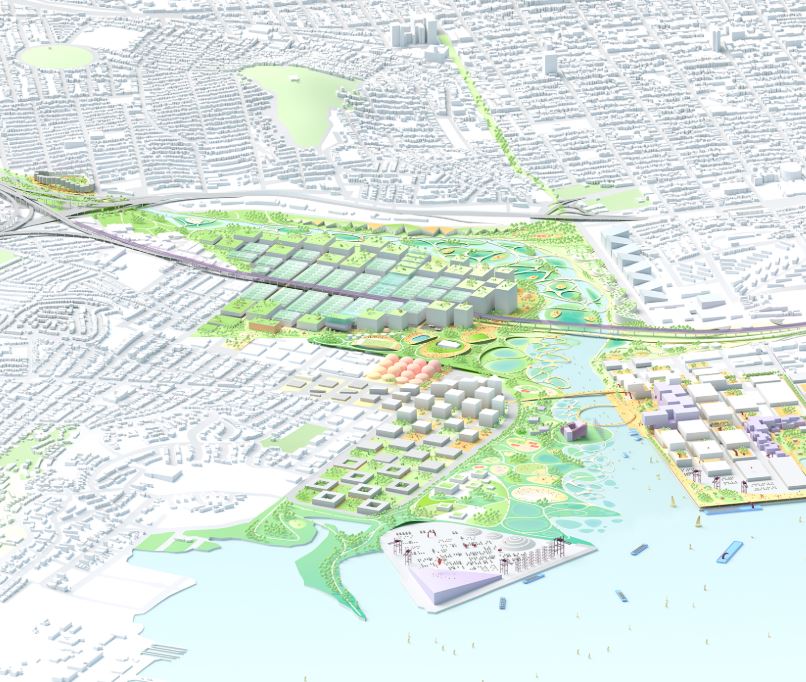 The teams made their final design public during a special meeting in San Francisco, USA, on 17 and 18 May.
In 2017, the design challenge started off with over 30 international teams of which 10 got 250.000 dollars each to further develop their ideas.
Several ideas concerned the restoration of creeks that flow into the bay, to restore water front and to create space in up-hill areas to store rainwater. Now, a year later, the final design concepts are ready to be shared.
Dutch participation
The three projects with Dutch participation are:
Islais Hyper Creek, San Francisco County
Final design by Danish-Dutch team of BIG, ONE and Sherwood to restore the Islais creek and create a watershed, absorbing millions of gallons of storm water annually while providing multi-level ecosystem benefits. Public spaces along the swimmable riparian corridor offer recreational amenities, reconnecting the area to its historic waterfront.
Resilient South City, San Mateo County
Final design by Australian-Dutch team Hassell+ and Deltares/ MVRDV/Goudappel to manage the flooding along Colma Creek by widening and greening the canal as well as creating a sequence of new parks, connect the community along the creek to the shoreline, between a series of active public spaces including a new waterfront pool.
Unlock Alameda Creek, Alameda County, Public Sediment
Final design by SCAPE Landscape Architecture and Arcadis links the Alameda creek with the baylands to provide a sustainable supply of sediment to the baylands for sea level rise adaptation, reconnects migratory fish with their historic spawning grounds, and introduces a network of community spaces that reclaim the creek as a place for people.