Damen DOP150 Proves Success On the Egyptian Coast

On the Egyptian coast, a desalination plant is being constructed and Damen is taking significant role in this project. 
The program includes a 500m long, 10m wide and 4m deep sea water inlet channel.
According to the Dutch defense, shipbuilding and engineering conglomerate, this channel will be created using a DOP150 dredge pump.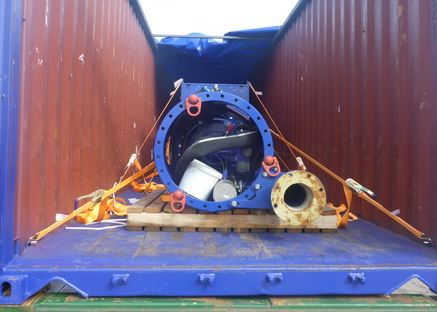 "The submersed pump is connected to the boom of an excavator; it is powered by the hydraulics of this excavator. The unit is situated on a pontoon, which will travel along the newly created canal," Damen said.
The DOP dredge pump was part of a complete dredge package. The delivery included a jet water pack supplying pressurized water to the suction heads – both a sand mining head for bulk mining was supplied, as well as a bed leveler for smoothening the bottom of the channel.
The DOP150 has been fitted out with dredging instrumentation including speed, pressure and dredging depth indication.