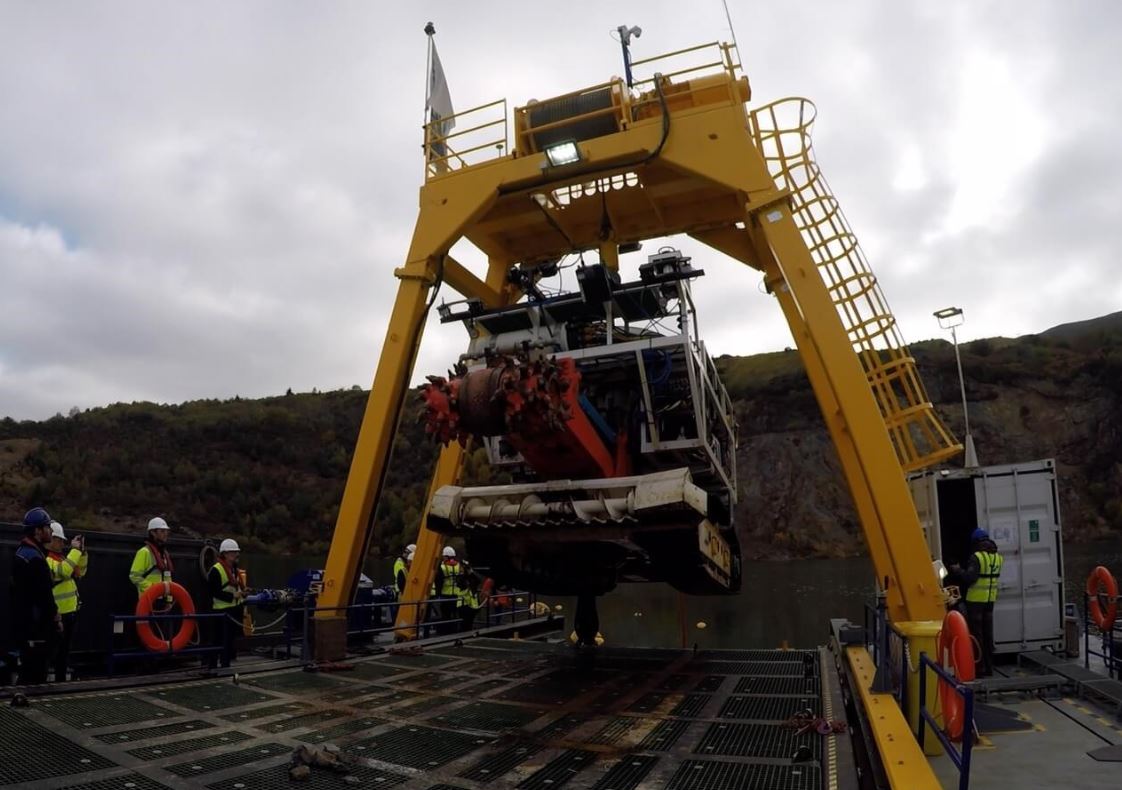 The ¡VAMOS! partners, together with Advisory Board members and interested external parties, were present at the ¡VAMOS! technology Demonstration Day, on October 24, at the Magcobar flooded mine pit, in Silvermines, Ireland.
In total 85 visitors participated in the field demonstration to raise awareness of the innovative technology with stakeholders and local communities.
The ¡VAMOS! (Viable Alternative Mine Operating System) project is funded by the European Union's Horizon 2020 research and innovation program. Featuring a total of sixteen partners from nine EU countries, ¡VAMOS! seeks to address the EU's need for (critical) raw materials, by making possible the extraction of mineral deposits from inland water-bearing areas.
To reach this aim, the partners have developed an innovative system whereby a remotely operated mining vehicle is launched from a waterborne carriage.
"The ¡VAMOS! team has successfully demonstrated their ability to use the prototype mining system in very hard rock. State-of-the-art electronics and visualization has been used to control the operations. All this was done with great consciousness and care for safety, the environment and involvement of local stakeholders," said Sander Steenbrink, General Manager Corporate Research and Development at Boskalis from the Netherlands, and Advisory Board member for the ¡VAMOS! Project.
Damen Dredging Equipment, being one of the main industrial partners within the ¡VAMOS! Consortium designed and built the aforementioned Launch & Recovery Vessel, plus the Slurry System on board of the Mining Vehicle.
Frank Bosman, RD&I Development Manager of Damen's Product group Dredging is the Project Manager for this scope, said: "This project has given us the platform to develop a dual stage slurry pump, which can be used in any mining or dredging situation where a high discharge pressure is needed and only limited space is available. Its further features, such as a high efficiency and large ball passage, have proven themselves in the ¡VAMOS! field trials, to be of the same high quality of any other Damen dredge pump."
The ¡VAMOS! trials will conclude early November, after which the on-site team – consisting of SMD, Damen, Sandvik, InescTEC, Fugro, Zentrum für Telematik, Fugro and BMT Group Ltd – will demobilise from the Irish site. In the coming months the test results will be evaluated, and reporting to theEU will follow.
Photo: Image source: Damen
Related news
List of related news articles