ML Dredging Busy at Camber Docks in Portsmouth
Following the recent completion of Newhaven project, ML (UK) Dredging team has arrived in Portsmouth to carry out crucial work for the INEOS British Racing Team.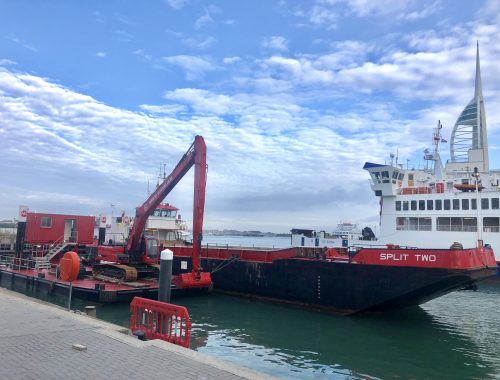 According to the company, 'Boxer' dredger along with Split hopper barge 'Split Two' are now in Portsmouth Harbor where they will carry out dredging of the Camber docks.
Dredging is taking place so that the newly designed, deeper draft vessel can remain afloat on her berthing pontoon in the camber docks, said ML Dredging in the release.
INEOS Team UK is the British Challenger for the 36th America's Cup and is based at Camber Dock in Old Portsmouth.
Due to the increased draft of the AC75 yacht for the AC36 they have applied to the Marine Management Organisation for – and have been granted – a licence to dredge a section of the Camber dock, in order to allow for a safe operation for their training program in the Solent.
The company officials expect that the dredging project will be completed over the next ten days.