Dredging works underway at Honolulu Harbor
The Army Corps contractor, Healy Tibbits Builders has begun night dredging operations in the inner Honolulu Harbor.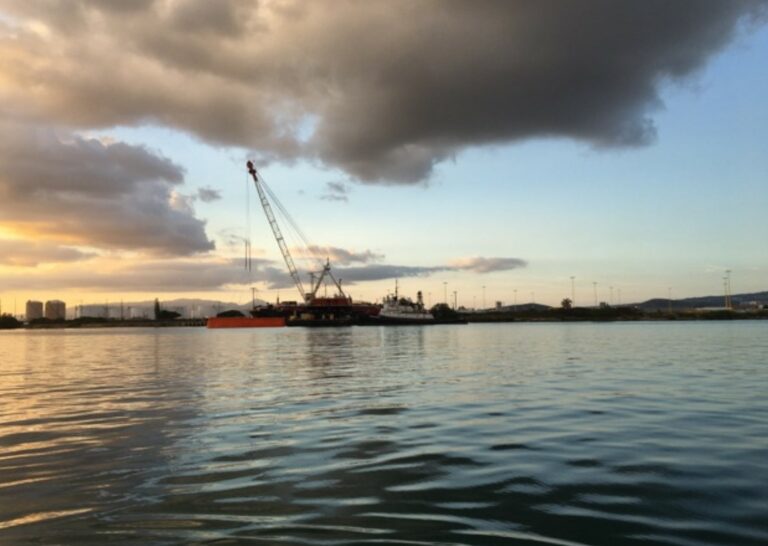 According to USACE, the dredge barge is working at Area U3B. Dredging will take place on Monday nights through Sunday mornings, from 3 p.m. to 1:30 a.m., with hours extending to 10:30 a.m. in the month of March.
Work has been scheduled to overnight hours to lessen the impact on cargo ship schedules and the delivery of goods and supplies.
During the project, the crews will dredge the inner harbor, and the entrance of the channel removing accumulated silt and sediment. The equipment will rotate to various other areas throughout the project based upon vessel traffic and harbor operations.
The Hawaii Department of Transportation (HDOT) expects that this dredging project will be completed by November 2021, conditions permitting.
The U.S. Army Corps of Engineers is responsible for maintaining the project depths in the channels and basins. Maintenance dredging of Honolulu Harbor was last conducted in 2016.
Honolulu Harbor is the principal seaport of the State of Hawaii. Hawaii receives more than 98 percent of all goods through its harbors.
Much of the containerized items are first shipped into Honolulu Harbor, then separated and trans-shipped to the neighbor islands.