Orcan efficiency PACKs installed for the first time on two dredgers
The shipping industry is struggling with high seas: shipping companies are faced with the challenge of efficiently combining environmental protection and economic efficiency.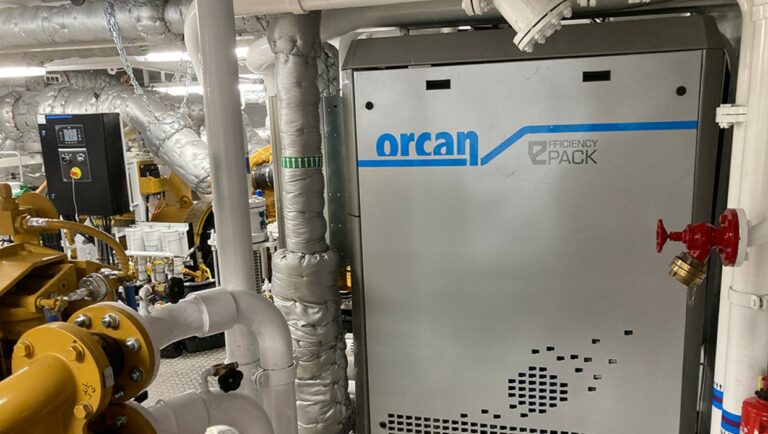 To bring the two together, marine contractor Van Oord has now chosen to install Orcan Energy's efficiency PACKs, an organic Rankine cycle (ORC) on two of its new hybrid water injection dredgers, the "Maas" and "Mersey".
In the design of the latest dredgers, built by the Dutch shipyard Kooiman Marine Group, special attention was paid to energy efficiency.
Among other things, both dredgers were each equipped with a module from Orcan Energy. The maritime energy efficiency solution potentially lowers the overall fuel consumption of the ships by 4 to 5 percent – depending on the engine power and the amount of waste heat available.
During a year of intensive and frequent deployment of the vessel, the CO2 emissions can be reduced by close to 200 tons per ship. The company thereby achieves a considerable improvement of the vessels' life-cycle assessment.
For Van Oord, the Maas and Mersey represent the new generation of hybrid water injection vessels. This new vessel type is versatile and has water injection dredging, mass flowing and power jetting systems. Thanks to the manoeuvrability and limited draught, the vessels are used for maintenance dredging in shallow harbours.
The efficiency PACKs utilize the waste heat of the engine jacket cooling water and exhaust gases by extracting the heat. A heat exchanger transfers this to the ORC circuit.
There, the refrigerant – a non-toxic, non-flammable hydrocarbon – evaporates and is fed as superheated vapor to the expansion machine. Here, the high-pressure refrigerant is expanded, driving the expansion machine.
This rotational energy is then used to drive a generator that produces electricity, which in turn results in fuel savings.