The Southsea Coastal Scheme officials have just released the latest update on the UK's largest local authority-led coastal defences' project.
As reported, placement of the Norwegian anorthosite rock at the Frontage 1 site is progressing well and in line with the target delivery programme.
This rock, chosen specifically for its density to create a long-lasting flood defence, is being placed at the Saluting Platform with crews working towards the Spur Redoubt.
According to Jeff and Parsa from Boskalis Westminster, the area for the rock is excavated and geotextile placed (a textile line for stability). The rocks are then placed tightly up to the sheet pile line, ensuring maximum protection for the wall and area behind.
When the full length of the rock revetment is placed and finished, much of it will be covered with shingle to maintain the aesthetics of the area.
They also said that the end of the bay working is within spitting distance as crews move into bay eight and toward the connection of the west and east steel pile lines. There is still blinding to finish and the toe beam on the rear pile line to concrete pour. Both should be completed this week.
And lastly a new design for the promenade around Southsea Castle will be considered by Portsmouth City Council tomorrow.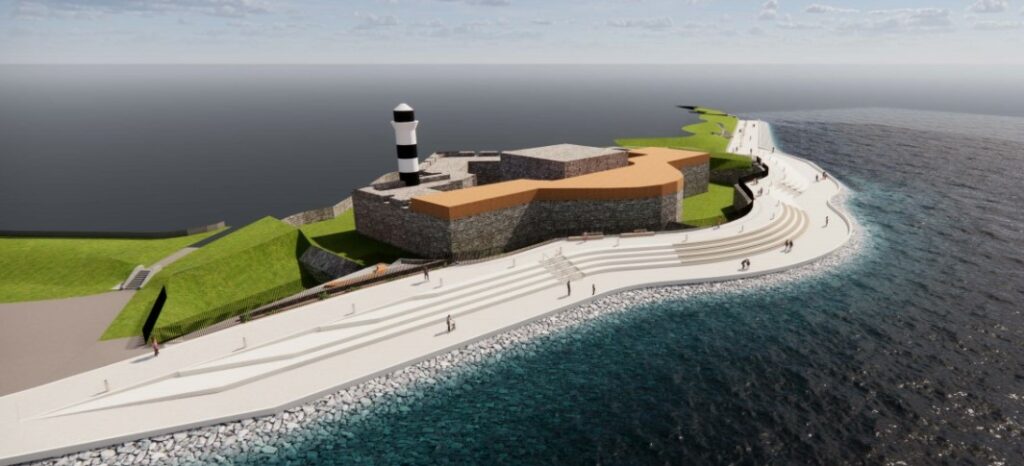 The Planning Committee will meet Wednesday, 18th August, 2021 10.30 am to discuss the amended design, which has a split-level promenade that includes terracing between the upper and lower promenade. This is proposed to replace the existing walkway around Southsea Castle as part of an amended design for Frontage 4 of the Southsea Coastal Scheme.
Photo: Southsea Coastal Scheme