Construction of the Southsea Coastal Scheme – UK's largest local authority-led coastal defence project – continues at good pace.
According to the latest project update, reinforcement steel structure (Re-bar) has been fitted now to the western egress steps (steps intended for exit from the water only, in an emergency situation). After last week's milestone, one year since the start of the project, the crews continue to practice installation of the granite pre cast apron panels.
"The team has really pulled together to make sure that when we place the walls in the autumn, the installation will be spot on," the project officials said.
Also, scaffolding along the seaward wall of Long Curtain Moat made great progress last week. A platform has been created so that crews can complete hydrodemolition of the existing edge beam of the wall in a few weeks time. This involves using high-pressure water jets to strip newer concrete from the old wall.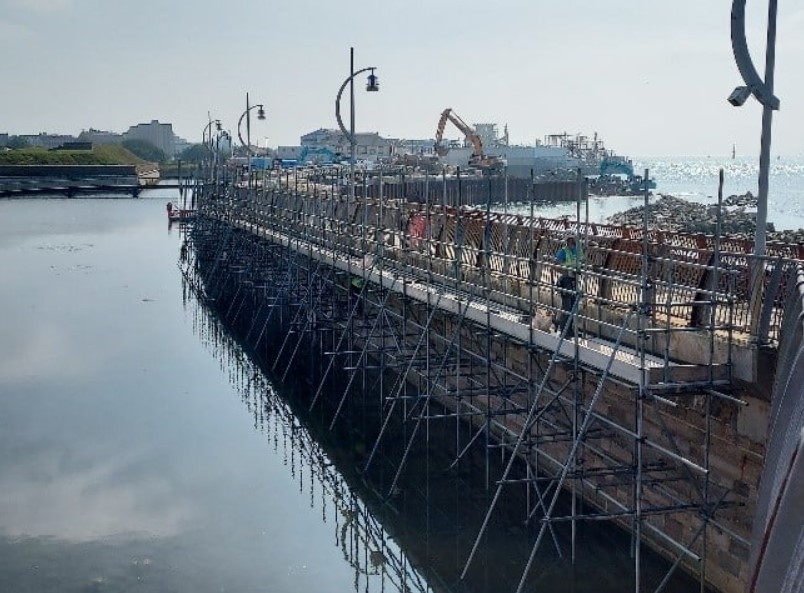 The Southsea Coastal Scheme got underway in September 2020 with the construction of coastal defences beginning between Long Curtain Moat and Clarence Pier. This area is known as Frontage 1.
The first of six phases in the Portsmouth City Council-led project came after some 10 years of planning and public consultation.
Works at Frontage 1 include the demolition of the existing seawall and the construction of a compound area with a Project Information Centre at Pier Road, Southsea.
Other activity includes the cleaning of old historic walls, installing flood defence walls with rock and apron revetments (sloping structures), creation of tidal pools and construction of a new promenade whilst retaining access to the historic features around Spur Redoubt.
Photo: Southsea Coastal Scheme