BAM Nuttall wins another well-deserved award
BAM Nuttall's work to rebuild Marine Parade in Dawlish on behalf of Network Rail has won the 'Project over £8 million Re-engineered' Award at the ICE South West Civil Engineering Awards.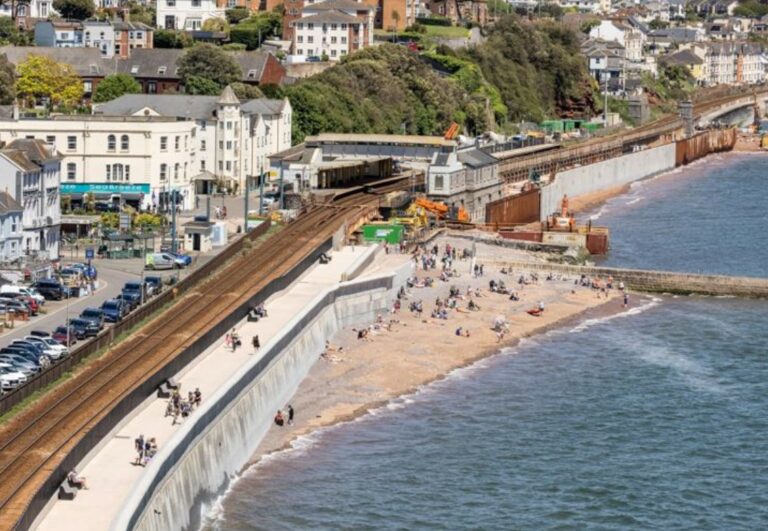 Following devastating storms in 2014, which caused significant disruption to the railway connecting Devon and Cornwall to the rest of the UK, Network Rail established the South West Rail Resilience Programme (SWRRP) to protect Dawlish's rail infrastructure from future extreme weather.
Alan Cox, BAM Nuttall Managing Director, Transport commented: "Our team in Dawlish has been active on site now for over two years and they continue to go from strength to strength. The challenges of such a site are considerable, with complex engineering delivery required in a highly constrained site, hemmed in on one side by the sea and on the other by a live railway. The team's achievements to date cannot be understated. They have shown innovation, inventiveness, patience and resolve to deliver this work to date and I would like to congratulate them for this well-deserved award."
Marine Parade was the first SWRRP project to reach detailed design and construction, consisting of a 350 metre sea wall and improved promenade, immediately south of Dawlish Station. The scheme was designed by ARUP and delivered by BAM Nuttall. The work at Marine Parade created a more accessible promenade while making sustainable upgrades to the sea defences to enhance the railway's resilience.
The design enables 90% fewer waves to overtop the sea defences in stormy conditions. The new sea wall will ensure that over the next 100 years the railway can remain operational and the risks to pedestrians on the promenade are reduced significantly.