GLDD gearing up for the FIMP project
Great Lakes Dredge and Dock Company, LLC, of Houston, TX, has started preparatory work on the Fire Island to Montauk Point (FIMP) Coastal-Storm Risk-Management Project.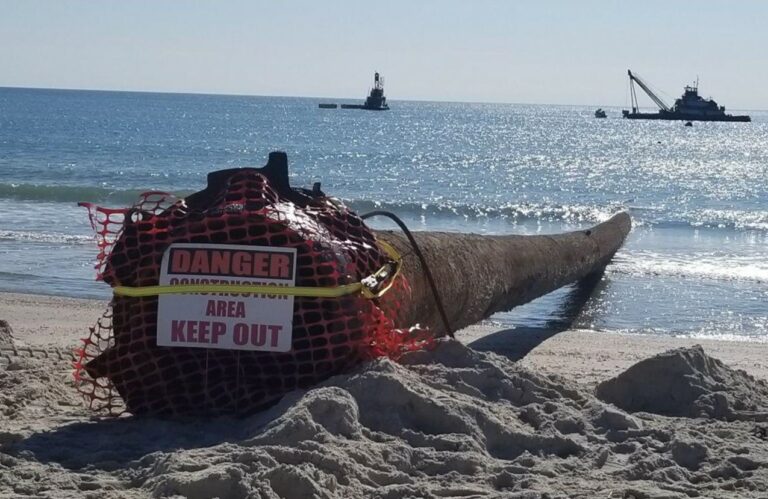 Work under the initial contract will reduce flood risk for vulnerable areas along an 83-mile stretch of Long Island's barrier islands and back-bay communities from Fire Island Inlet to Montauk Point.
According to the Corps, work on the first contract of the FIMP project began in late September, but a formal ground-breaking ceremony to recognize the initiation of the FIMP project will be held upon the arrival of equipment and the start of work.
The $47.5 million contract that was awarded to GLDD earlier this month includes hydraulic dredging of over 1.5 million cubic yards of sand from Fire Island Inlet. The sand will be strategically placed on updrift and downdrift beaches to reduce erosion and strengthen coastal resiliency.
Approximately 802,000 cubic yards of sand will be placed west along Gilgo Beach, and 716,000 cubic yards of sand will go west on Robert Moses State Park.
New York District Commander Col. Matthew W. Luzzatto stated: "Awarding this first contract allows our District to enter the construction phase, providing increased coastal-storm risk-reduction measures for residents of these communities."
The work marks the beginning of a comprehensive, multi-year $1.7 billion Fire Island to Montauk Point (FIMP) Coastal-Storm Risk-Management Project that includes a variety of features to reduce coastal flood risks. The work is fully federally funded under Public Law 113-2, the Emergency Supplemental Bill passed shortly after Superstorm Sandy. The project will undertake the following:
Inlet sand bypassing along Fire Island, Moriches and Shinnecock Inlets with monitoring to facilitate adaptive management changes (operational changes during a project to optimize its intended function);
Structure elevations and building retrofits for approximately 4,400 structures within the 10-year floodplain, and localized acquisition in areas subject to high-frequency flooding with the reestablishment of natural floodplain functions;
A four-pronged Breach Response Plan for barrier islands evaluating potential actions for breaches that result from severe storms and tidal surges;
Beach and dune fill on shorefronts, with renourishment approximately every four (4) years for up to 30 years after project completion;
Feeder beach construction every four (4) years for up to 30 years at Montauk Beach. (A feeder beach is an artificially-widened beach that nourishes down-drift beaches);
Adaptive management to ensure sand volume and placement configurations accomplish design objectives of offsetting long-term erosion;
Removal of the existing groins/jetties at Ocean Beach on Fire Island;
Coastal-process features for 12 barrier island, and two mainland locations. Sediment will be placed along the barrier island bayside shoreline over the life of the project to reestablish coastal processes meeting the objective of no loss of habitat or sediment;
Integration of local land-use regulations and management.
The US Army Corps of Engineers, New York District will lead construction efforts in concert with the New York State Department of Environmental Conservation (NYSDEC), the non-federal sponsor, in cooperation with Suffolk County, the Towns of Babylon, Islip, Brookhaven, Southampton and Easthampton who were the signatories on the Project Partnership Agreement and local agreements executed over the last two months that have brought the FIMP project to fruition.