South Louisiana priorities funded in USACE Work Plan
U.S. Congressman Garret Graves has announced the following key Louisiana projects received funding that will address dredging, levee, flood protection and infrastructure priorities.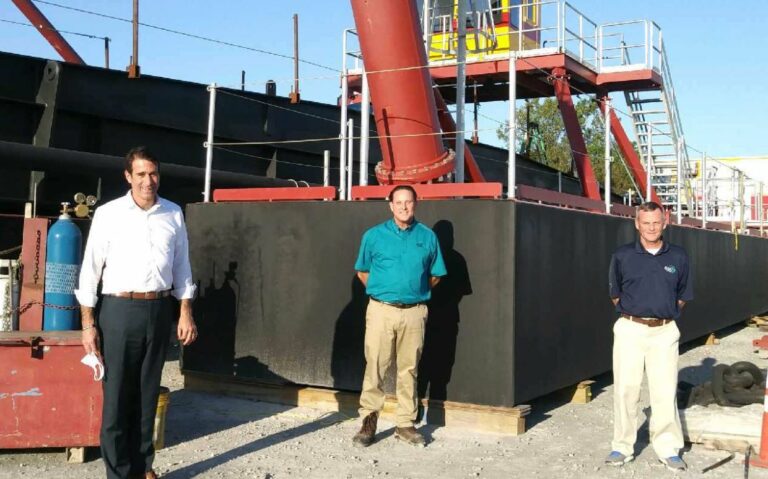 The work plan is the regular release of how the Army Corps will be funding its projects after the passage of the annual congressional spending bill. 
Major investments Graves successfully pushed for during the funding process:
Morganza to the Gulf: $31 million for the Bayou Terrebonne floodgate and Highway 55 road gate design, as well as designing the levee and control structure for two critical segments of the project. This fourth slug of funding was again secured by Rep. Graves and Rep. Scalise through an individual congressional request.
Bayous Chene, Bouef, and Black: A historic $41,786,160 to improve the Atchafalaya River's key waterways.
Mississippi River Dredging (Baton Rouge to the Gulf): $236,335,185 to maintain river's current depth while the Corps continues to work to deepen the river for the next generation of PANAMAX vessels. Graves previously worked to secure full funding for that deepening project.
Lower Mississippi River Comprehensive Study: $1 million to continue Graves' landmark study to revolutionize the management of the Mississippi River- preventing increased flows and flood threat to Louisiana. After authorizing and securing the first $5 million for this effort, this year's funding was part of the administration's ask to Congress.
Gulf Intracoastal Waterway: $18,186,000 ensure the depth of this critical waterway in addition to upgrades to the camera systems at GIWW Lock camera security systems
Other important priorities receiving construction, study, dredging, and maintenance funding supported by Rep. Graves include:
Construction

$45,759,850 to support drainage in the New Orleans area.
$8,346,000 to support the Beneficial Use of Dredged Material for marsh creation in Calcasieu, Sabine, and Mississippi River Outlets at Venice waterways.
$9,000,000 to deepening of a five-mile stretch of the Calcasieu River (Higgins- Cassidy)
$15,500,000 to prevent flooding in Pineville, LA and improving the approach to the Overton Lock and Dam on the J. Bennet Johnston Waterway (Letlow- Cassidy).
$10,000,000 for the Southwest Coastal Hurricane Project to design and construct four miles of shoreline restoration from the Calcasieu River to Freshwater Bayou (Higgins- Cassidy).

Studies

Lafitte, LA: $500,000 to begin identifying new federal flood protection options after Hurricane Ida.
Port Fourchon Belle Pass Deepening: $303,000 to continue the permitting process (Scalise).
Port of Iberia: $1,200,000 to complete the post-feasibility/validation study (Higgins).
Lake Pontchartrain and Vicinity: $1,000,000 to begin preconstruction engineering and design of additional resiliency features.

Mississippi River & Tributaries Levee Systems

Atchafalaya Basin Floodway System: $1,710,000
Atchafalaya Basin:

$6,500,000 to construct new levee features
$17,583,000 to conduct repairs to improve seepage, guidewalls, and dolphin piles.

Baton Rouge Harbor, Devil's Swamp: $2,063,000
Bayou Cocodrie: $50,000
Bonnet Carre: $3,658,000
$592,000 to support assessments of seven existing levees
Lower Red River, South Bank Levees: $499,000
Mississippi Delta Region: $715,000
Old River: $46,204,000
Tensas Basin, Red River Backwater: $2,654,000

Operations and Maintenance of our Waterways

Houma Navigation Canal: $3,667,000 to maintain the current channel. Graves continues to push to ensure that deepening the channel is synced with the completion of the new Houma Navigation Canal Lock Structure.
Barataria Bay Waterway: $105,000
Bayou Bodcau Waterway: 1,825,000
Bayou Lafourche, Lafourche Jump Waterway: $3,967,000
Bayou Pierre: $35,000
Bayou Segnette: $11,000
Bayou Teche, Vermilion River: $182,000
Bayou Teche: $202,000
Caddo Lake: $337,000
Calcasieu River Pass $48,941,815 to maintain the existing channel and support donor and energy transfer port activities.
Freshwater Bayou: $19,424,000
$1,297,000 to ensure tracking of the depths of South Louisiana's waterways.
J Bennett Johnston Waterway: $13,6497,000
Lake Providence Harbor: $1,707,000
Madison Parish Port: $319,000
Mermentau River: $7,159,000
Mississippi River Outlets, Venice: 3,805,000
Wallace Lake: $2,085,000
Empire to the Gulf: $61,000
Intracoastal Waterway to Dulac: $16,000