JAXPORT dredging pays off: ONE STORK arrives in Jacksonville
The Jacksonville Port Authority (JAXPORT) set a new port record yesterday with the arrival of the vessel ONE STORK, the largest container ship to ever call Jacksonville.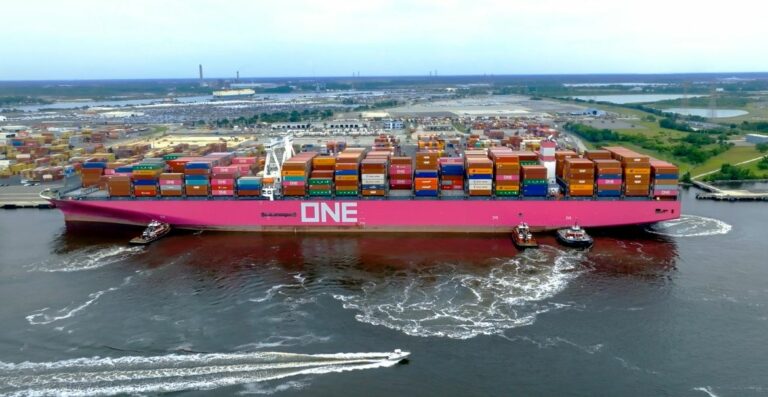 Operated by shipping line Ocean Network Express (ONE) within THE Alliance network of ocean carriers, the ONE STORK has a carrying capacity of 14,000 TEUs (containers).
Previously, the largest ships to call JAXPORT had a capacity of 11,923 TEUs.
"It's a proud moment to see the investments Florida makes hard at work. Setting this record and accommodating the largest container ship that Jacksonville has ever had is directly linked to the continued investments in our seaports," said Florida Governor Ron DeSantis.
"Pursuing major projects like the JAXPORT Harbor Deepening Project have helped secure Florida as a leader in transportation and supply chain capabilities. These investments are paying huge dividends for Floridians and all the people our seaports serve, which extends far beyond state lines."
ONE Director East Coast and Gulf Port Ops, Louis Ferrer, added: "The operational capabilities of Jacksonville's harbor to accommodate vessels of this size make JAXPORT a great fit for us. We are pleased that our customers will continue to benefit from direct service and efficient transit times between Asia and the Southeast U.S. offered through the EC5."
As part of the upsizing, the EC5 service now calls the SSA Jacksonville Container Terminal (JCT) at Blount Island to utilize the terminal's newly-deepened 47-foot harbor, which provides the water draft needed to accommodate the larger vessels.
Located in the heart of the Southeast U.S., JAXPORT is Florida's No. 1 container port by volume and one of the nation's top vehicle-handling ports.