Extreme weather calls for more robust canal maintenance
The unpredictability of the UK's weather has highlighted the importance of both reactive and planned canal maintenance works, according to The Rothen Group.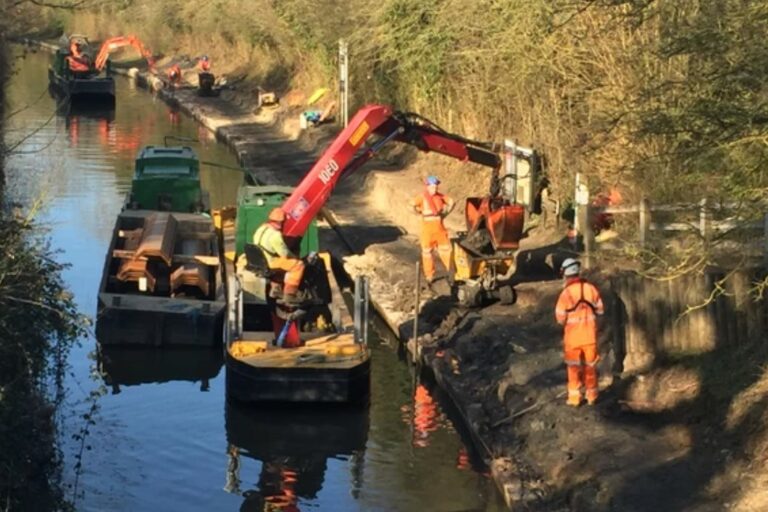 With a low of -23°C being recorded in Scotland in February this year, the coldest night since 1995 according to the Met Office, and Storm Christoph in January bringing one of the wettest three-day periods ever known, it is clear that the UK is experiencing increasingly erratic weather.
As a result of the freezing temperatures, strong winds and rain, The Rothen Group has seen an increase in weathering damage to the canals and waterways.
Ian Rothen, founder of The Rothen Group: "When canals freeze and unthaw continuously, this can lead to faster bank erosion over time. More immediately, when the ice and snow melts, this can lead to flooding and bank slippages. With the UK experiencing more of this type of dangerous weather, it is really important to prioritise maintenance and where appropriate to deploy equipment following extreme weather to make immediate repairs."
"In cases of over flooding, we can gain access to the weirs and banks by deploying our floating plant equipment, which allows work such as bank stabilisation to take place when land access isn't possible. Furthermore, our grab barges have an extensive reach. This means that they can be used to clear structures such as fallen trees beyond the towpath, outside of the main watercourse, which is helpful in the wetter months when access via the land isn't viable," Ian continued.
Ian concluded that the optimum maintenance or immediate repair solution varies depending on the location and the extent of the weathering damage. If issues are already present, such as the channel is getting wider, sediment in the water is increasing and vegetation is no longer establishing where it grew previously, then these are all signs to assess what intervention might be required.