Van Oord secures another contract in the UK
Van Oord has just announced that the company is continuing its involvement in the Aberdeen South Harbour expansion project in the United Kingdom.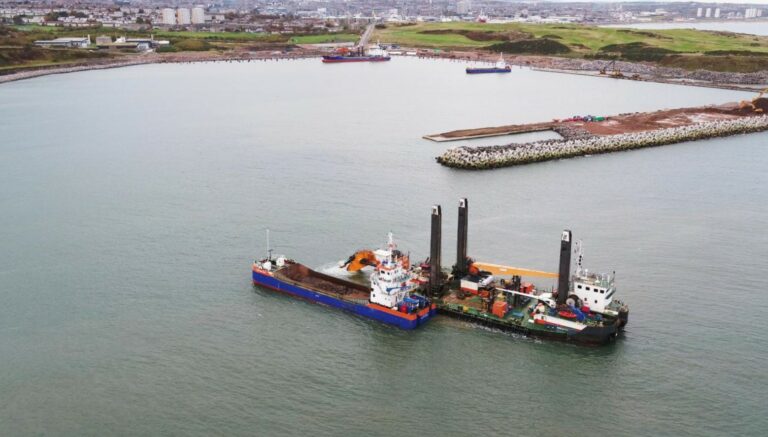 End of April, Aberdeen Harbour Board awarded another contract to Van Oord, this time for the South Breakwater project.
The company has been involved in the Aberdeen scheme since 2017 and, most recently, successfully delivered critical rock dredging and revetment construction works.
When complete, the over 500-metres-long breakwater will protect the new port facilities from a one-in-300-year storm. Backhoe dredger Razende Bol, side-stone dumping vessel HAM 602 and split hopper barge Johannis de Rijke are part of the equipment to be deployed. Work on site will start imminently, reported Van Oord.
"The commencement of work on the South Breakwater is a critical step in the final 30% of construction, and I look forward to seeing the structure take shape in the coming months. Van Oord brings a wealth of engineering skill and innovation to the project, and its work will ensure smooth and safe marine and land-based operations at South Harbour for our customers and port users," said Keith Young, Project Director at Aberdeen Harbour Board.
"We are very pleased that Aberdeen Harbour Board has entrusted us with delivering a further critical element of its harbour expansion project. Our experienced site team will deploy specialist equipment and methodologies to ensure the new breakwater is constructed safely, whilst at the same time minimising the impact of our work on the marine environment and rich wildlife of the surrounding area," commented Paul Hesk, Area Manager Van Oord.
The harbour expansion project is the largest marine infrastructure project underway in the United Kingdom. After completion it will open significant opportunities for the region, in both new and existing international markets.