The US Army Corps of Engineers, New England District Commander Col. John A. Atilano II recently accompanied Massachusetts Governor Charlie Baker, Executive Office of Energy and Environmental Affairs Secretary Kathleen Theoharides, and Massachusetts Port Authority CEO Lisa Weiland on a tour to the Boston Harbor Deepening Project.
During the tour, they visited several dredges as work progressed to complete the deepening of the harbor.
In addition, ongoing Muddy River construction and future studies to address flooding in the City of Boston and a watershed study of the greater Boston area were also discussed.
Currently, the contractor Great Lakes Dredge and Dock (GLDD) is working on the final phase of the project, with completion expected before the November 2022 deadline.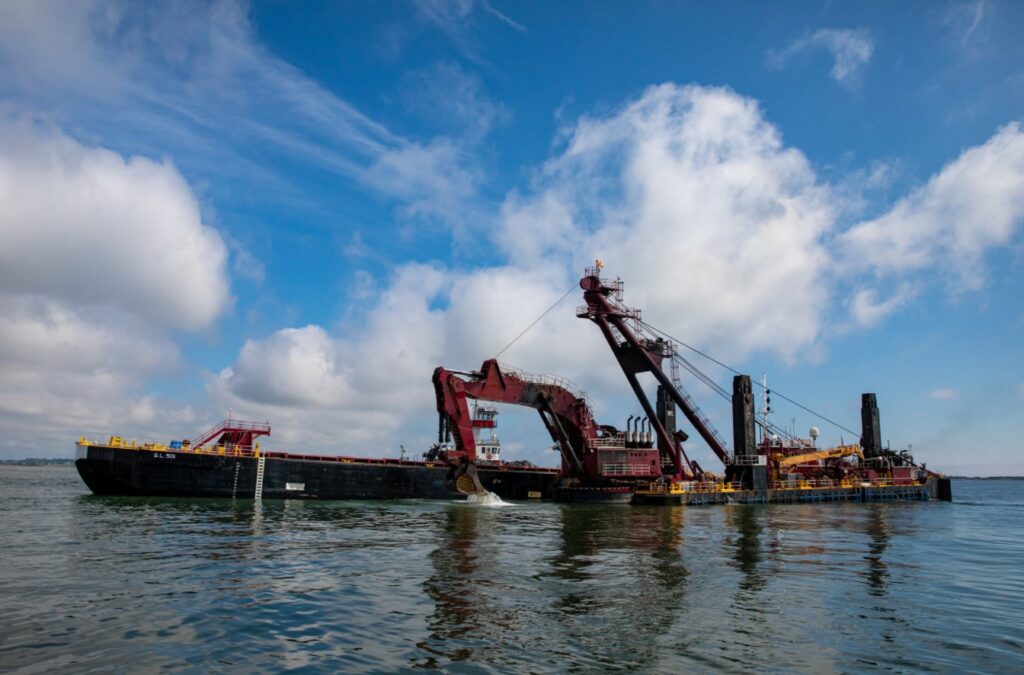 Phase III, worth around $62 million, includes rock removal through blasting and hydraulic backhoe dredging which will provide navigational improvements to the Boston Harbor Navigation Project.
"The Harbor Deepening Project is integral to the continued development and success of the Commonwealth's maritime economy and will provide expanded access and connectivity to the global marketplace," commented Governor Baker during the visit.
As a reminder, the Phase II of the project was completed nearly one year ahead of schedule, in January of 2021. Since July of 2018, Cashman Dredging and JV partner The Dutra Group focused on deepening the main ship channels: the Outer Harbor Channel from 40 to 51 feet, the Main Shipping Channel from 40 to 47 feet, and the Reserve Channel from 40 to 47 feet.
Photo: Joshua Qualls (Governor's Press Office)