Connecting Europe's largest sand production plant on sustainable shore power
Bakker Sliedrecht has provided one of Europe's largest floating sand plants of Dekker Group with a sustainable shore power connection.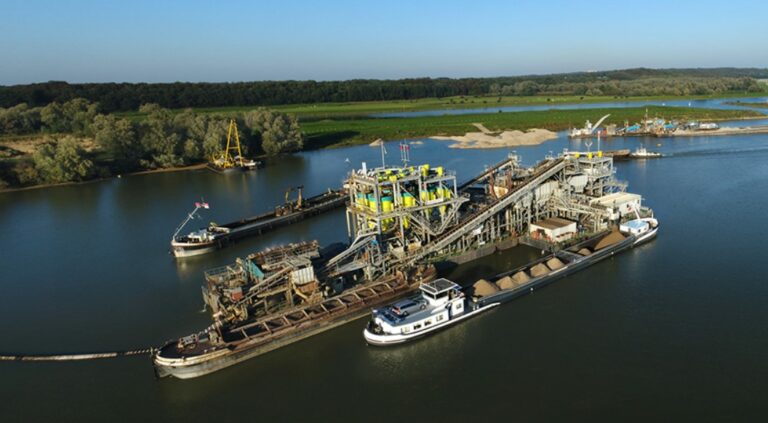 The system integrator has carried out the delivery and installation of the high-voltage facilities at the sand plant in cooperation with Dekker Grondstoffen and Verhoef EMC.
By connecting to shore power, the immense production plant can now run on sustainable electricity. This can save over 3 million liters of diesel per year and reduces CO2 emissions with 80% per tonne of sand and gravel that is being extracted.
The sailing sand production plant consists of a suction dredger that sucks up the sand, the Rotterdam 58, and a floating sand classification installation, the Rotterdam 55, that sorts the sand and soil and prepares it for supply to the concrete and asphalt industry. The ship has already been electrified earlier with the help of Bakker Sliedrecht.
Delivery and installation of high-voltage cables
Bakker Sliedrecht installed the high-voltage cables connecting the installation with the onshore grid operator's power station. On board, Bakker Sliedrecht was responsible for the delivery and commissioning of the 24kv high-voltage installation, the transformers that convert 10kv to 420 volts and all high-voltage cables. The transformer on board, as well as the high voltage cables, are prepared for the increase of the grid voltage from 10kv to 20kv. This will increase capacity on the congested high-voltage grid.
The construction of electrical infrastructure on vessels and land installations is a specialty of Bakker Sliedrecht, whether it concerns high, medium or low voltage.
"These kinds of projects fit into Bakker Sliedrecht's strategy to electrify ships and make them more sustainable. For the project at the sand factory of Dekker Groep, our expertise and experience in the field of high voltage technology and the connection to shore power was particularly important," commented account manager Nico IJzerman of Bakker Sliedrecht.