The U.S. Army Corps of Engineers dredge Jadwin is back in its homeport of Vicksburg after wrapping up a busy 2021 season.
The season typically begins as soon as the spring water rise is over, in April or May, and ends some time in November. In the off season, the vessel undergoes critical repairs and maintenance.
According to the Corps, Jadwin's crew of about 50 set out for the annual dredging season May 3, 2021, on the Mississippi River. Overall, the crew dredged approximately 6.2 million cubic yards.
"The Dredge Jadwin crew's job is so very important, and we are thankful everyone made it home safely," said Col. Robert A. Hilliard, Vicksburg District commander. "The crew is to be commended for their dedication to the mission of keeping our nation's waterway on the lower MS navigable."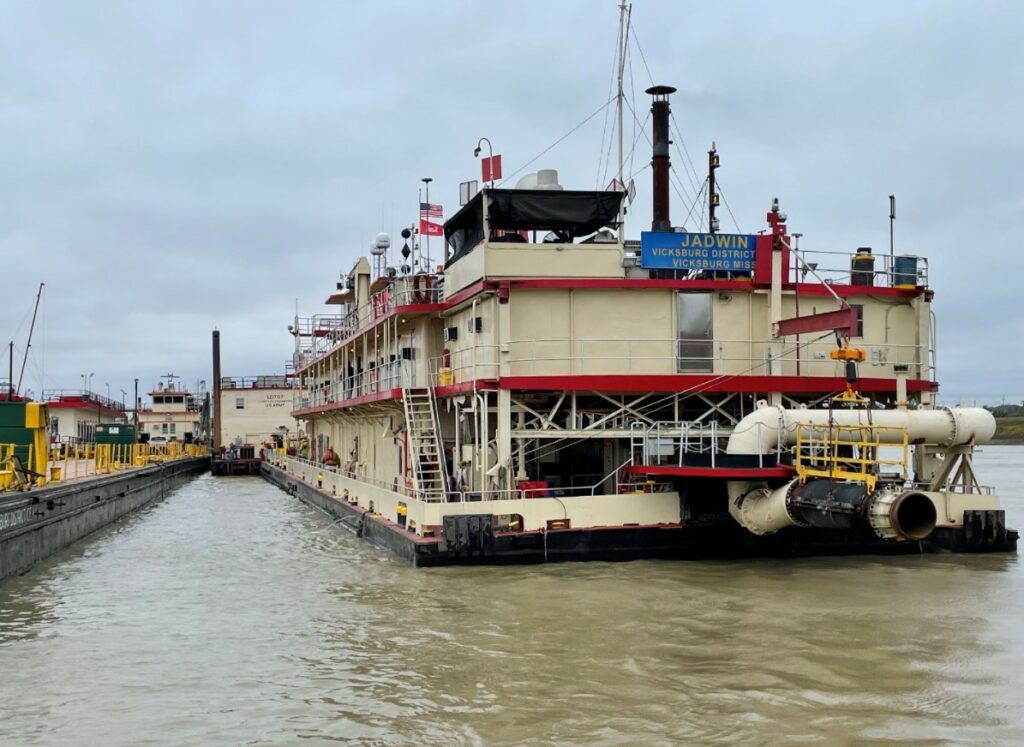 Dustpan dredges are unique to the Mississippi River and work to maintain a navigable channel for commercial navigation to move unimpeded. They have a dustpan-shaped appendage which lowers to a specific depth on the river bottom.
The water jets agitate the sediment and the dustpan vacuums up the agitated material and pumps it through the dredge and pipeline, where it is typically placed in swift water and resuspended as it continues its journey down river.
There are only four dustpan dredges total in the United States, and three of those, the Jadwin, Potter, and Hurley, belong to the Corps of Engineers. The fourth dredge is owned and operated by a private contractor.
The Jadwin was built at the Marietta Manufacturing Company, in Point Pleasant, West Virginia, on the Ohio River. She was launched on 30 October 1933, and named for Lt. General Edgar Jadwin, chief of engineers at the time of the disastrous 1927 flood. The vessel was converted from steam to diesel electric in 1985 and the pilot house, galley and crew quarters were remodeled in 2007.