The federal, state, and local leaders joined JAXPORT and the USACE Jacksonville District yesterday to celebrate the completion of the Jacksonville Harbor Deepening project through JAXPORT's Blount Island terminal.
The project deepened the federal shipping channel from 40 to 47 feet, providing the channel depth needed for larger container ships to call on City of Jacksonville, Florida – Government from destinations worldwide.
A deeper harbor also allows ships currently calling Jacksonville to carry more cargo on board.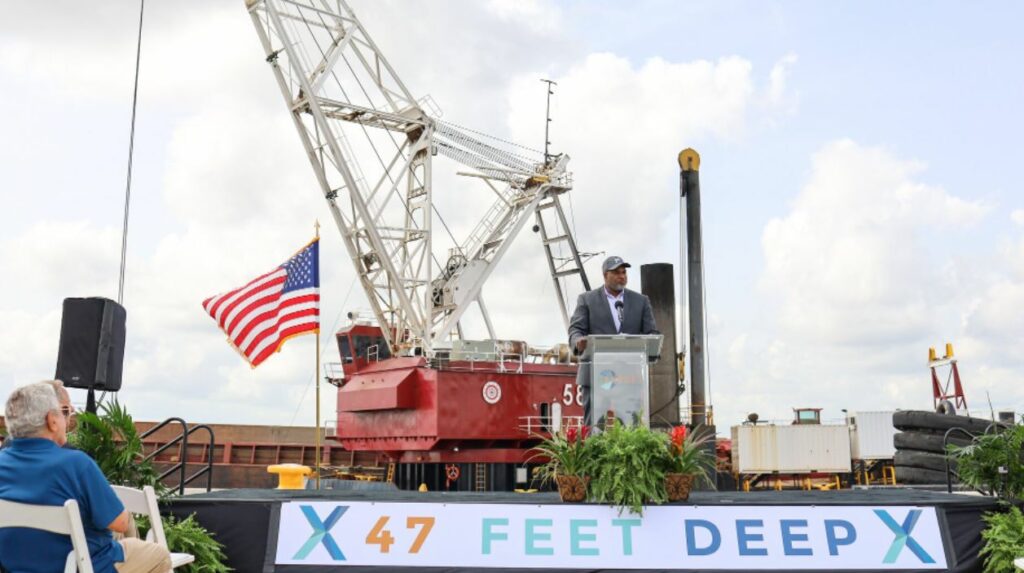 "When JAXPORT began this deepening journey nearly two decades ago, the goal was to build the port of the future," said JAXPORT Board Chair, Wendy Hamilton. "With today's completion of deepening through Blount Island – the future is here, and JAXPORT is equipped to meet the needs of the nation's supply chain for generations to come."
"Through FDOT's strategic investments, our seaports continue to expand and modernize to meet the needs of Florida's growing economy and communities," said Florida Department of Transportation Secretary, Jared W. Perdue. "The JAXPORT Harbor Deepening Project communicates to the world that Florida is open for business and demonstrates Florida's unwavering commitment to strengthen and grow supply chains while providing a safe, resilient, competitive, and dynamic multimodal transportation system."
"Anchored by harbor deepening, well over half a billion dollars in infrastructure improvements have been recently completed or are currently underway to improve our container capabilities at Blount Island," concluded JAXPORT CEO, Eric Green. "With the support of our federal, state, and local partners, JAXPORT is open for business and ready to serve the needs of our customers while creating local jobs here in our community."