Jenkins Marine is currently working on an interesting project, the construction of a new pontoon on the historic site on Brownsea Island, Poole Harbour.
"We have been pleased to work with marina pontoon suppliers, Intermarine for the end client, John Lewis who operates a small passenger ferry on Brownsea Island within Poole Harbour. To facilitate passenger ferry operations a new floating landing pontoon was commissioned and Jenkins Marine has been awarded the contract to install the pontoon," the company said.
Works first involved the removal of around 100t of rock armour from the seabed. Rock was removed using a 50t long reach excavator fitted with a mechanical rock grapple and placed on a small storage pontoon (JML60)
The new pontoon has been designed to be held in position by 4no. steel tubular piles, which are driven into the seabed.
According to Jenkins, dredger 'Doreen Dorward' was used as a platform for the excavator, and every inch of her 3no. 762mm diameter hydraulically operated 15m long spud legs were needed to hold position, given water depths on site of up to 10m.
The company also added that a commercial dive team was brought in to survey the seabed to ensure the removal of the scour rocks was fully completed. With the rocks removed, the Doreen Dorward was reconfigured as a marine piling barge.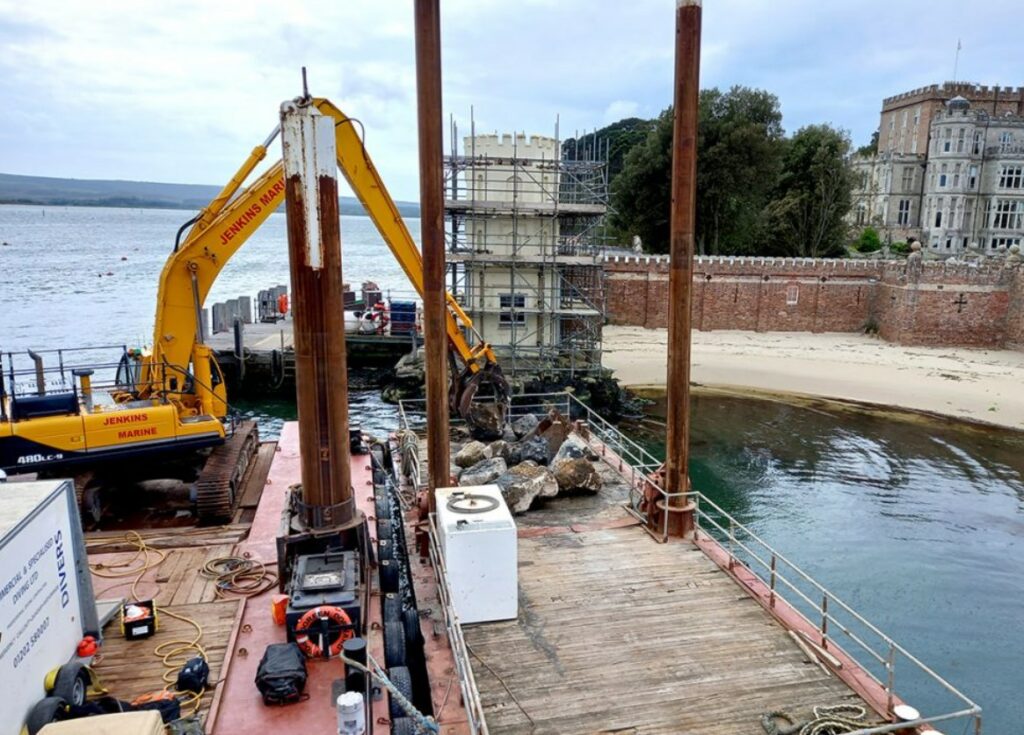 The 50t Excavator was removed, the deck matted out, and a 50t crawler crane was tracked on, together with a large piling guide frame. Vibro and Impact hammers were lifted on a small storage pontoon, together with the piles (up to 22m long) to save space on the piling barge.
"Piling operations were very sensitive, given the close proximity of the historic buildings of the 'castle', and the clients were understandably concerned about the stability and integrity of the structure, A full scaffold was provided for additional support to the nearest structure complete with vibration monitoring," added Jenkins. "A variable moment vibrator was selected to minimise the potentially harmful low frequency vibrations on hammer startup and shutdown. Thankfully, seabed conditions were favourable and the piling operations produced minimal vibrations with no damage to any buildings."
Jenkins Marine expects this project to be completed within the next few weeks, during May & June 2022.