Van Oord unveiled the latest addition to its dredging fleet today. The Vox Ariane, Van Oord's first trailing suction hopper dredger equipped with an LNG fuel system, was christened by its CFO and member of the Executive Committee Ms. Jolanda Poots-Bijl.
The TSHD has a hopper capacity of approximately 10,500 cubic metres and measures 138 metres in length and 28 metres across the beam.
It is the first hopper in Van Oord's fleet equipped with an LNG fuel system and an outstanding example of Van Oord's sustainable ambitions.
The vessel was built by Keppel Singmarine Pte Ltd at its shipyard in Singapore.
The Vox Ariane and its two sister vessels (Vox Alexia and Vox Apolonia, still under construction) will replace existing vessels and fit in with Van Oord's aim of making its fleet state-of-the-art and more energy efficient.
"Their energy-efficient design will reduce fuel consumption and therefore carbon emissions substantially," said Van Oord.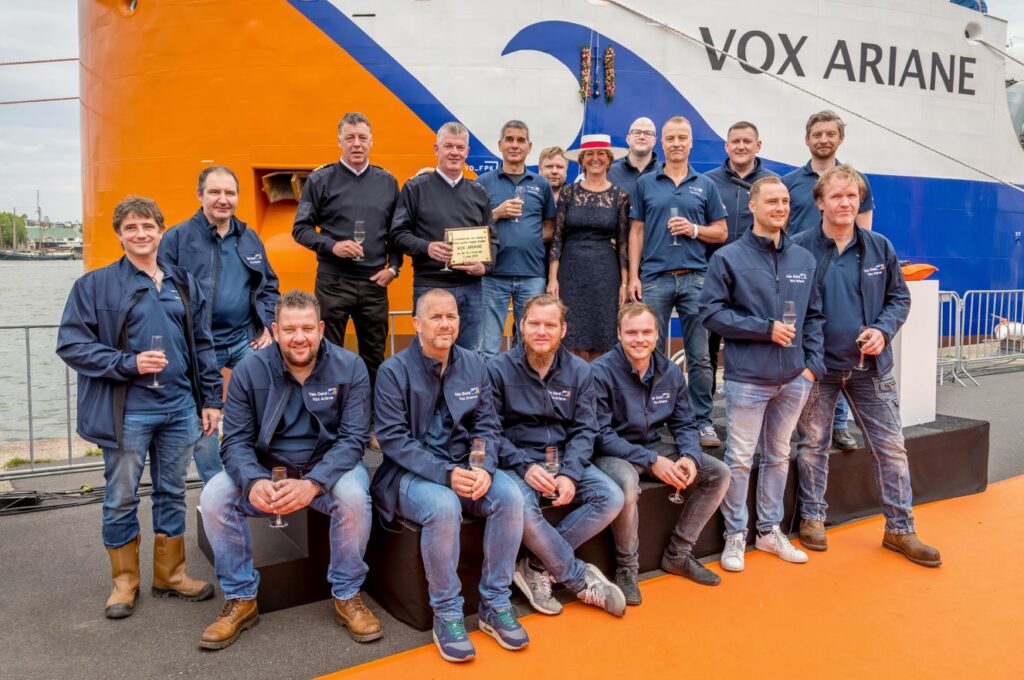 Navigating towards zero emissions
The investment is part of a broader fleet renewal programme.
Van Oord is committed to reducing carbon dioxide emissions, leading to a better, more sustainable world for future generations.
As part of their Sustainable Earth Actions programme, Van Oord intends to be carbon-neutral by 2050, in line with the Paris Agreement.
Approximately 95% of Van Oord's carbon footprint is linked to its fleet.
"We can make most progress by investing in the decarbonisation of our vessels, by investing in green vessels and alternative fuels. The organisation has decided to invest EUR 1 billion in innovative and sustainable equipment over the next five years," said Van Oord.