TNPA welcomes new addition to its fleet – dredger MOHOMA
Transnet National Ports Authority (TNPA) has christened the latest addition to its Dredging Services fleet, the Plough dredger Mohoma.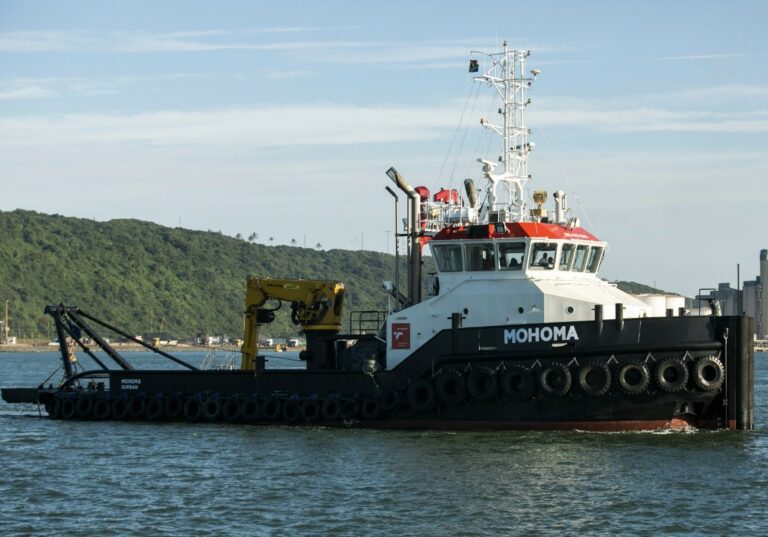 The name Mohoma is derived from one of the eleven South African official languages, Sesotho and means "to plough", befitting for the function of the vessel.
The purchase of the new dredger forms part of TNPA's ongoing fleet replacement programme and it replaces the plough tug Impisi – a 50-year-old marine craft that has surpassed its operational lifespan.
Delivering the keynote address at the christening ceremony, Chairperson of the Transnet Board of Directors, Dr Popo Molefe said: "The demand for dredging services has increased in the region and the addition of this plough tug will increase the berth capacity of the ports. Managing the demand is part of TNPA's growth plan, which will see the continuous improvement of port infrastructure."
Built by Damen Shipyards Cape Town, plough tug Mohoma is a multi-functional seagoing workboat for harbour and coastal services. It is a unit from the Shoalbuster series – built in steel to the Damen standard design.
"We are honoured to deliver this state-of-the-art plough tug to TNPA. This vessel has the capacity of a 45-ton bollard pull measure, 33 meters long and 9 meters wide, and can plough up to 25m depth. With a spacious working deck, this versatile workboat will serve as an asset for TNPA's ports and dredging operations," said Sefale Montsi, Director of Damen Shipyards Cape Town. "The world-class vessel showcases the Damen Group's design knowledge, the skill of our South African Shipbuilding team and our first-class local equipment manufacturers and co-makers."
A plough tug is used as a bed leveler to smooth out high spots created by marine traffic in highvolume berth areas.
The vessel complements the work of dredgers, which serve the purpose of maintaining or increasing the depth of navigation channels, anchorages, or berthing areas to ensure the safe passage of boats and vessels.