TAMU 53rd Dredging Engineering Short Course
The 53rd Texas A&M University Annual Dredging Engineering Short Course will be held in person from January 8-12, 2024.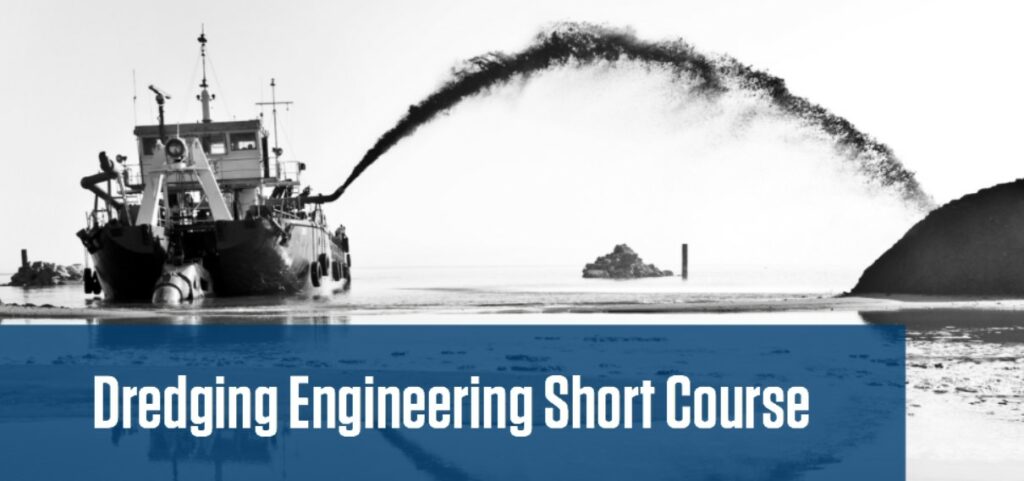 The course, which attracts a wide range of audiences from state, local, and federal governments, consultants, contractors, and academic researchers, focuses on dredging, dredge technology, sediment transport, placement options and site design, construction aspects, claims avoidance, and a whole range of related topics.
This 4.5-day Dredging Short Course will discuss current information on dredging fundamentals, dredge equipment & instrumentation, dredging procedures, dredged material placement procedures, sediment transport in pipes, environmental regulations, and much more.
COURSE OVERVIEW
The 53rd Dredging Engineering Short Course will be taught face-to-face on the campus of Texas A&M University.
The course includes a mixture of lectures, laboratory exercises, and a panel.
This course is administered by the Center for Dredging Studies, Department of Ocean Engineering, with organizational assistance from the Texas Engineering Experiment Station.
A textbook on dredging and placement and electronic (PDF) course notes on all lecture material are provided.
Participants completing the course will receive a certificate and are eligible for 3 Continuing Education Units (CEUs).