Dredging Today Conference Kicks Off Today
Our first Dredging Today Conference (DTC) is starting today at Amsterdam RAI Convention Center, under the theme 'Changing Climate, Resilient Business'.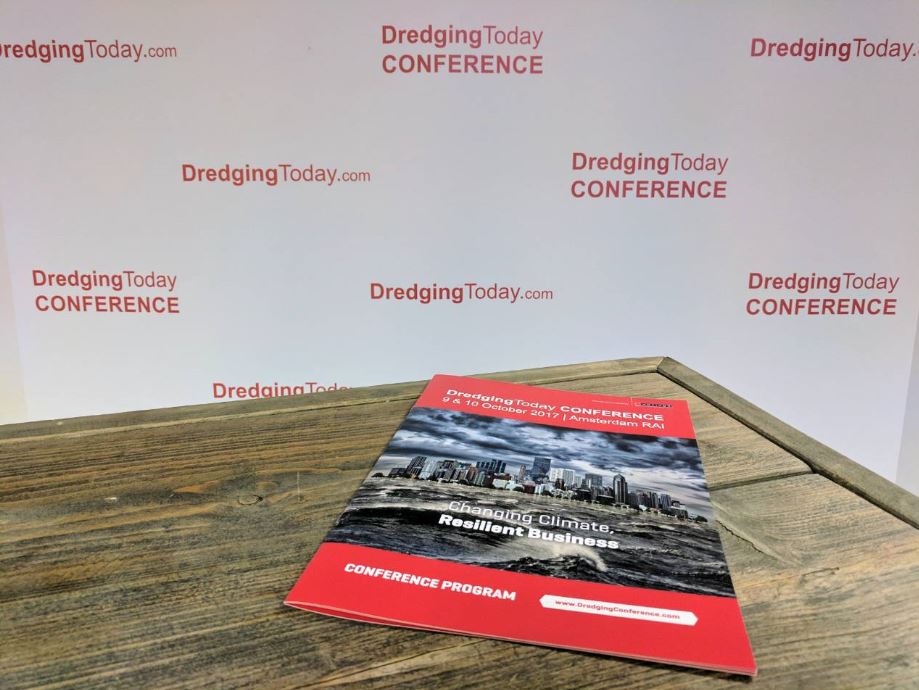 The two-day event, collocated with the Offshore Energy and Exhibition Conference (OEEC), will gather expert conference speakers and panelists to discuss how the world in which the dredging industry operates is changing.
Climate change, global trade developments and shifts in the world's energy mix have significant impact on dredging. But where will the effects of climate change be felt most? And what public funds are available to pay for solutions that can protect vulnerable regions? We are also witnessing changes in client demands and with these in the role of dredging contractors. What business strategies do we see emerging and ultimately – what makes the dredging industry future proof?
Day 1, October 9
In the opening session, our keynote speakers will provide topical and fresh insights on the global picture for dredging, covering the main drivers for dredging: expected developments in world trade, urban development near coastlines, coastal protection, offshore energy and tourism and leisure:
• Strategic plans for Chittagong Port – national and international scope, Rear Admiral M. Khaled Iqbal, Chairman, Chittagong Port Authority;
• Outlook for the dredging industry – Richard Brakenhoff, Industry Analyst, Rabobank;
• Middle East perspective on business climate trends – John Mackenzie, Business Development Director, NMDC;
• Future markets for dredging – Maurice de Kok, Business Development Director, Van Oord Dredging and Marine Contractors.
Thematical session: Climate change and its impact on dredging
This session zooms in on the effects of climate change, both physical for example with sea level rise, flooding and erosion and non-physical for example by changing client demands regarding operations, driving CO2 reductions and use of alternative fuels, among others.
In particular this session will discuss what this means for the dredging community and how this drives demand for dredging solutions:
• The physical aspects of climate change: Rising sea levels, Rob van Dorland, Senior Adviser Climate, KNMI;
• Adaptation: Sustainable land reclamation in South East Asia in light of climate change Mark van Zanten, Senior Project Manager Water, Royal HaskoningDHV;
• Marine contractors and sustainability – what is our response to global challenges? – Sander Dekker, Sustainability Manager, Van Oord Dredging & Marine Contractors;
• The future of dredging: Sustainable vessels and equipment -Erik van der Blom, R&D Manager, Royal IHC.
Day 2, October 10
Thematical session: Solutions and funding for climate change adaptation
This session addresses how the dredging community and dredging industry can respond to climate change. The emphasis in this session is on what international financial institutions, in particular multilateral and regional development banks, are doing in support of climate change adaptation and how industry and national governments can become involved in adaptation action programs.
The session includes a special report from the World Association for Waterborne Transport Infrastructure, PIANC, on their views on adaptation action.
• International Financing Institutions: how do they work and what prospects do they offer? – Commerijn Plomp, World Bank and IFC private sector liaison officer for the Netherlands, Team International Organizations, Netherlands Enterprise Agency;
• The World Bank's new procurement framework – opportunities for contractors – Dick Konijn, Owner – CEO, ID Consultancy BV;
• Finance solutions that work for climate adaptation – Louis Strydom, Business Development Manager – Project Development, FMO – Dutch Development Bank;
• Climate change adaptations of ports and inland waterways – Ine Moulaert, Senior Engineer Marine Environmental Department, Jan de Nul, Member, PIANC Working Group 178 on Climate Change Adaptation.
Thematical session: Dredging for clean energy
This session takes a look at developments where dredging meets climate mitigation, for example to support low carbon energy projects:
• Developing the offshore grid for wind power – Rob van der Hage, Manager North Sea Infrastructure, TenneT;
• Dredging for hydropower, Jan Peters, Managing Director, Alia Systems & Imotec.
Closing session: How are you making your business resilient?
Panel discussion on how the dredging industry is preparing for the future.
Topics include: how are companies anticipating climate change and its effects; how are companies working on project integration and collaborating in a more holistic way; how are companies leveraging technologies developed outside the industry?
• Gert-Jan Nieuwenhuizen, Managing Director, Port of Amsterdam International;
• André van Hassent, Asset Manager Ports & Fairways, Port of Rotterdam;
• Olivier Marcus, Product Director Dredging, Damen Shipyards;
• John Mackenzie, Business Development Director, NMDC;
• Maurice de Kok, Director Strategic Business Development, Van Oord.
Delegates attending the 1st Dredging Today Conference can expect a forward-looking agenda with attention for business rather than technology.
[mappress mapid="24492″]