PHOTO: Jan De Nul's TSHD Tristão da Cunha Hits the Water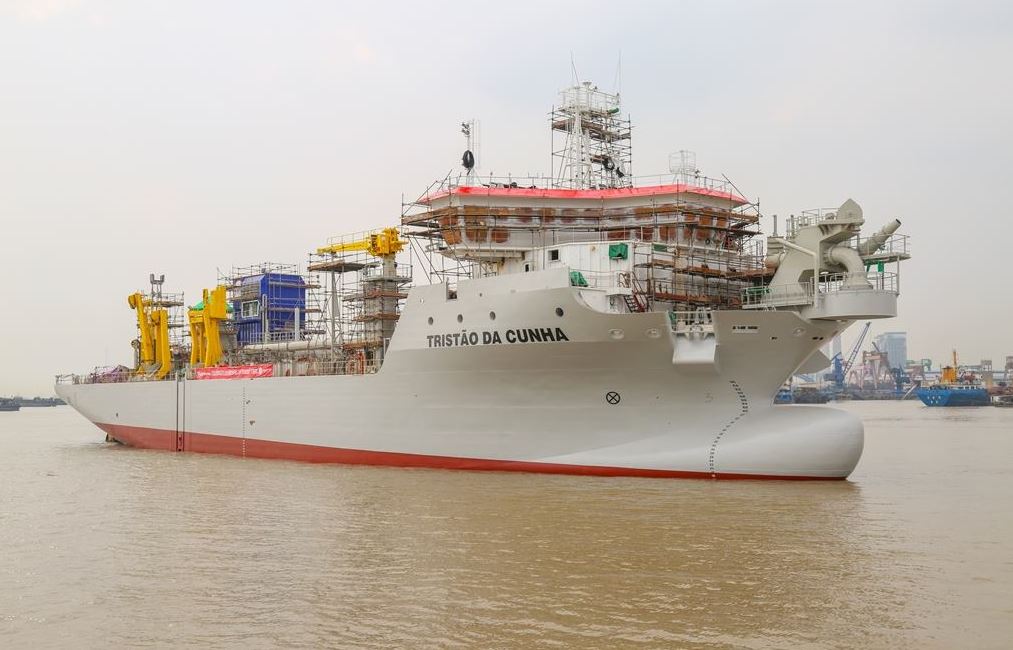 Jan De Nul's new 3,500m³ trailing suction hopper dredger (TSHD) Tristão da Cunha was launched yesterday at the Keppel Nantong shipyard in China, a subsidiary of Keppel Offshore & Marine.
This green vessel is equipped with an exhaust gas treatment system filtering out and virtually eliminating many pollutants from the exhaust gases.
Jan De Nul Group recently ordered six such ultra-low emission TSHDs, called Ultra-Low Emission Vessels, five of which are being built at Keppel: three small 3,500m³, two medium-sized 6,000m³ and a larger vessel at 18,000m³.
TSHD Tristão da Cunha:
Hopper capacity – 3,500m³;
Deadweight – 5,500 ton;
Length o.a. – 89.3m;
Breadth – 22.0m;
Draught loaded – 5.50m;
Maximum dredging depth – 27.6m;
Suction pipe diameter – 800mm;
Pump power (trailing) – 1,250kW;
Pump power (discharging) – 3,000kW;
Propulsion power – 2 x 1,100kW;
Total installed diesel power – 5,510kW;
Speed – 11.3kn;
Accommodation – 16.
Related news
List of related news articles