CPRA Presents Quarterly Progress Report
Staff from the Louisiana Coastal Protection and Restoration Authority (CPRA) updated the CPRA Board on the quarterly progress report at the Board's monthly meeting in Cameron yesterday.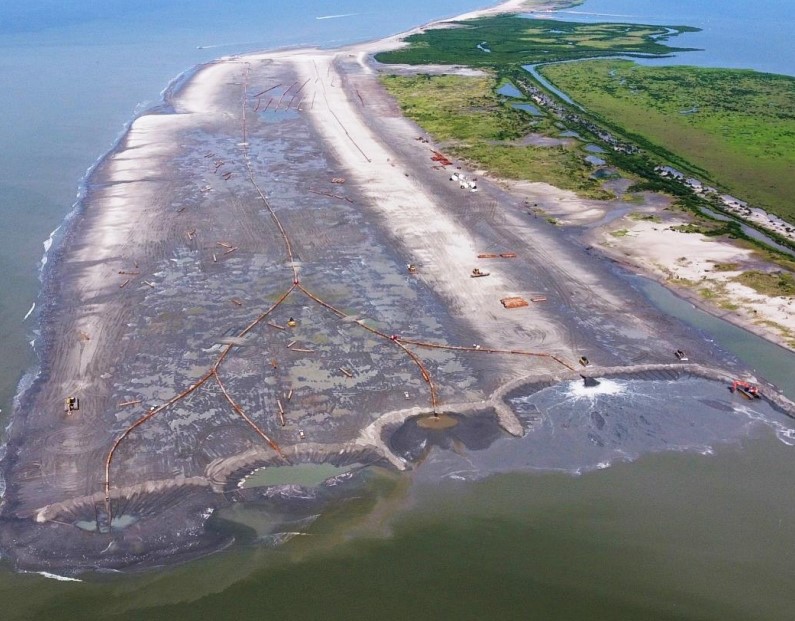 The report provides information about 67 active projects from around coastal Louisiana: 16 in construction, three in planning and 48 in engineering and design. Staff presented updates on several ongoing activities in southwestern Louisiana.
"Our projects in construction will benefit more than 131,000 acres of coastal habitat and improve more than 190 miles of levees," said CPRA Deputy Executive Director Bren Haase in his presentation to the board. "In this last quarter, we completed construction on two projects totaling more than $128 million in local investments. The first was the Caillou Lake Headlands project (also known as Whiskey Island) that restored a barrier island in Terrebonne Parish. The second was the St. Mary Backwater Flooding project, part of a larger project group aimed at flood control in the Morgan City area."
Haase's presentation highlighted two marsh creation projects: Cole's Bayou Marsh Restoration project that is currently in construction and the Northwest Turtle Bay Marsh Creation project that is going to bid in the next six months. "These two projects combined will benefit more than 1,340 acres of marshland," Haase stated.
Haase included a video update on the Rockefeller Refuge Gulf Shoreline Stabilization project, announcing that construction was one-third complete. He also provided an update on the West Shore-Lake Pontchartrain project, a structural protection project recently authorized and funded for construction by Congress that aims to create more than 18 miles of levee (among other features) in St. Charles and St. John the Baptist parishes.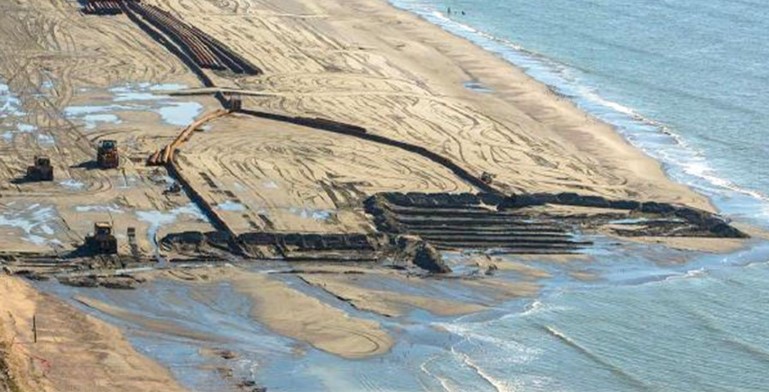 CPRA's regional operations manager, Darrell Pontiff, presented brief updates on 13 projects in the Calcasieu/Sabine and Mermentau Basins, accounting for more than $344 million dollars of work in progress in southwestern Louisiana.
Project Manager Jennifer Mouton then provided a status update for the Southwest Coastal Louisiana Integrated Feasibility Study. The Study was conducted with CPRA and the U.S. Army Corps of Engineers (USACE) as a two-part examination into ecosystem restoration plan and flood risk reduction plan in Cameron, Calcasieu and Vermilion Parishes. The ecosystem restoration plan recommends nine marsh restoration projects, five shoreline protection/stabilization projects and 35 Chenier reforestation projects.
In the meeting's final presentation, Project Manager Katie Freer provided an overview of the Calcasieu Shipping Channel Salinity Control project. This project is the largest hydrological restoration project in southwestern Louisiana history and is considered a cornerstone 2017 Master Plan project, meaning that it will help sustain and support 12 other Master Plan projects for this part of the state (projected over the next 50 years).
The project aims to construct five control structures along the Calcasieu Shipping Channel in order to reduce salinity levels in Lake Calcasieu and the surrounding marshes. Permit applications were submitted in July 2018, and full project design is expected to be done in early 2020. Bids on construction are expected in fall 2020, with construction estimated to start in 2021 and last 36 months.