UniSite Group at Seatrade Maritime in Dubai
UniSite UniSite Group, a Ningbo based company involved in dredging, land reclamation, offshore projects, marine, mechanical engineering and green remediation projects, is currently taking part in the Seatrade Maritime event in Dubai, UAE.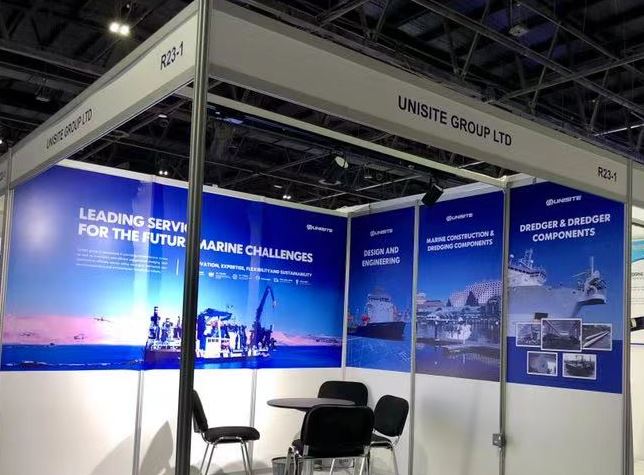 As a part of UAE Maritime Week, held under the patronage of His Highness Sheikh Hamdan bin Mohammed bin Rashid Al Maktoum, Crown Prince of Dubai, the event is taking place this week, from October 29-31, at the Dubai World Trade Centre (DTWC).
"The UAE Maritime Week forms part of our tireless efforts to create a global profile for and enhance the competitiveness of Dubai's maritime sector. The event is an important national platform that allows for the exploration of the industry's future in a bid to position the UAE as the world's most competitive, comprehensive, and exclusive maritime center," said H.E. Sultan Ahmed Bin Sulayem, Chairman of Dubai Ports, Customs and Free Zone.
UniSite Group team will be on the spot to showcase some interesting projects they took part in all over the world during 2018.
These highlights include:
Maintenance of the world famous hopper suction and cutter suction dredgers, they supplied many ship building parts: a big quantity of overflow, bottom doors, spud, suction pipe, jet line, loading box, adjusting/straight pipes, pump spare parts, sliding piece, arm piece with elbow, turning gland, valve body, cardan ring, support unit, etc;
New ship-building contracts for hopper suction dredgers 6000m³/3000m³; continuously provided bottom doors, ship building rolled discharge /suction pipes, casting discharge/suction pipes, moolpool, DW pipes, other structures;
Reclamation/Maintenance work in the Netherlands, UAE, USA, Bahrain, South America: large quantity of reclamation pipe with flanges and sinker pipes, bends, pontoons, rubber hose, etc;
Casting piece for pumps and dredgers: bend, y pipe, turning gland, arm piece with casting elbow, sliding piece, pump cover, etc;
Piling work in Australia, Canada, south America; supplying piling pipes, etc;
Machining part for construction machinery, agriculture machinery, ship-building, automobile industry; shaft, bush, machining, casting, die casting, forging, stamping etc.