CPRA releases 2020 Year in Review
The Louisiana Coastal Protection and Restoration Authority (CPRA) last week released its 2020 Year in Review, outlining the agency's accomplishments in coastal protection and restoration.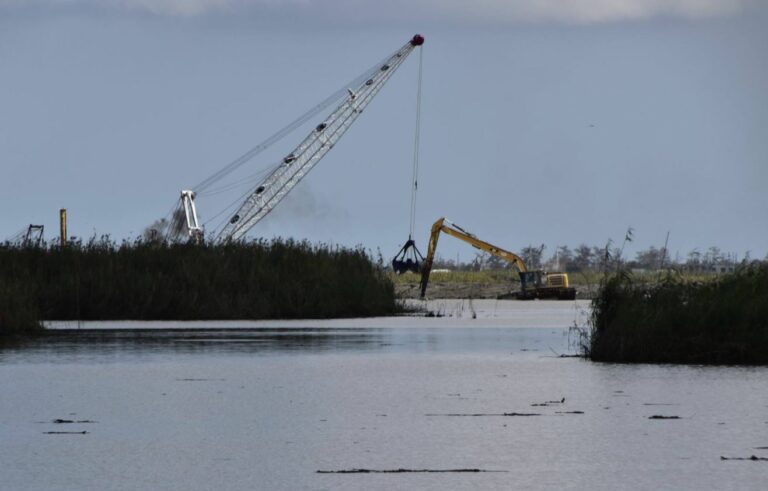 The past year saw the advancement of 112 coastal projects, including 49 projects in construction, surpassing last year's record of 40 projects in active construction.
"In a year of unprecedented challenges, our team at CPRA pressed forward with unrelenting focus in order to advance projects and deliver results to the citizens of coastal Louisiana," said CPRA Chairman Chip Kline and Executive Assistant to the Governor for Coastal Activities.
"We had a record-breaking number of projects in active construction, and we embarked on a number of new policy initiatives that will transform the way our state approaches the sustainability of our coast.
"This year, like perhaps no other year since 2005, showcased the continued and dire need for the work that we do. It also fulfilled the promise of a protection and restoration program able to advance projects adequate to the scale of the problem."
"Despite COVID, working remotely, and a record seven tropical storms and hurricanes affecting Louisiana, CPRA never missed a beat," added CPRA Executive Director Bren Haase.
"Thanks to our agency's hard-working team, we were able to complete construction on 12 projects with a total value of more than $185.4 million, and we moved into the construction phase on 15 more projects totaling more than $405.6 million."
Haase said that other projects continuing this calendar year, along with projects now in engineering and design heading to construction, will improve 110 miles of levees and restore their barrier islands, marshes, swamps, and ridges for the citizens of the state and the fish and wildlife that call their coast home.
Coastal restoration
CPRA completed the $18.7 million restoration of Queen Bess Island, a 36-acre rookery for Brown Pelicans and other birds near Grand Isle in Jefferson Parish.
CPRA completed the $35.4 million Rockefeller Refuge Gulf Shoreline Stabilization project, building three miles of encapsulated lightweight aggregate breakwater structures and protecting approximately 256 acres of marsh.
CPRA began dredging on Rabbit Island, a major bird rookery in Cameron Parish. The $16.4 million project will restore approximately 88 acres and is expected to be complete by February 2021.
CPRA began dredging on Trinity-East Island, one of three islands scheduled to be restored as part of the $167 million Terrebonne Barrier Island project, located in Terrebonne and Lafourche Parishes. All three islands are anticipated to be complete by 2022.
CPRA began construction on the Caminada Headland Back Barrier Marsh Creation project which will restore approximately 1,000 acres of marsh and is expected to be complete by August 2021.
CPRA began construction on the Cameron Meadows Marsh Creation and Terracing project, located in Cameron Parish. The $32 million project will restore approximately 304 acres and is expected to be complete by February 2022.
CPRA began construction on the 473-acre Bayou De Cade Ridge and Marsh Creation project in Terrebonne Parish. The project includes over two miles of ridge habitat and is expected to be completed by January 2022.
CPRA continued and expanded construction of the $22 million Northwest Turtle Bay Project, creating approximately 1,100 acres of marsh in Jefferson Parish below Jean Lafitte.
CPRA began construction of West Grand Terre Island in Jefferson Parish, restoring 235 acres along 12,700 feet of beach and, along with 66 acres of back barrier marsh.
CPRA continued progress on the engineering and design of proposed sediment diversions into the Barataria and Breton basins, including Environmental Impact Studies.
CPRA opened bids for the first increment of a large-scale restoration strategy for the Barataria Basin, the $100 million Barataria Basin Ridge and Marsh Creation-Spanish Pass Increment project that will create and nourish approximately 1,358 acres of marsh and create 132 acres of marsh ridge.