VolkerStevin wins three ICE North West Awards
VolkerStevin was recognised at the 2021 Institution of Civil Engineers (ICE) North West Awards, receiving three awards for its outstanding work in civil engineering.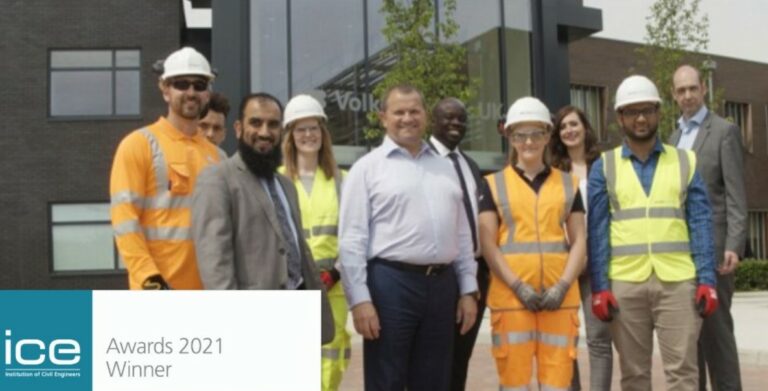 Each year, the ICE North West Awards showcase the collective and individual achievements of civil engineers, seeking out excellence in civil engineering practice across the region, and celebrating recently completed projects, diversity best practice and outstanding individual contribution within the engineering profession.
VolkerStevin was awarded three awards: the Diversity Award, the Sustainability Award – for the Fairhaven to Church Scar Coast Protection Scheme – and the Mentor Award.
The Diversity Award
The Diversity Award was presented to VolkerStevin, for the way in which it has embedded the VolkerWessels UK EDI policy into its day-to-day operations, creating an inclusive working environment for everyone, and helping people to recognise all forms of diversity and mental wellbeing and challenge – as well as leading improvement and educating its workforce on the protected characteristics.
Commenting on the award, Emma Antrobus, director – ICE North West said: "Appointing 13 site champions has helped VolkerStevin to fully embrace its group policy on diversity – raising awareness, challenging perceptions and celebrating the benefits of a diverse workforce."
The Sustainability Award
The Fairhaven to Church Scar Coast Protection Scheme, a VBA (VolkerStevin, Boskalis Westminster and SNC-Lavalin's Atkins business) joint venture, in collaboration with Fylde Council and the Environment Agency, built coastal defences that now protect 2,425 properties and infrastructure from coastal erosion and flooding.
Throughout the project, VBA made great efforts to save carbon, which included 97% of the waste created being recycled or reused, and ensuring that 80% of the project team was made up of local labour, including apprentices, and providing work experience opportunities.
Emma Antrobus said of this award win: "Civil engineers are in a pivotal position to help address the climate crisis that our planet is facing. This project had sustainable measures at its very core and ensured that huge carbon savings were made. As well as protecting people's properties from the threat of flooding and erosion, it is a wonderful asset for the community and visitors alike."
The Mentor Award
VolkerStevin's head of engineering, Eleanor Inglis, received the Mentor Award for her efforts in developing those joining the industry through graduate and apprentice schemes. Eleanor is also a lead supervising civil engineer and ICE reviewer.
Emma continued: "Eleanor knows exactly what it takes to mentor younger engineers, achieving a 100% pass rate for those she supports in their reviews. A dedicated professional and a well-deserved ICE North West Mentor award winner."
Jonathan Suckling, VolkerStevin managing director said: "We are very proud to have won three awards at the recent ICE NW Awards. Winning these awards is a fantastic achievement and provides excellent recognition from one of the industry's leading institutions. It is testament to the hard work and effort by our teams and individuals across the business. Well done to everyone involved."