Great Lakes Dredge & Dock with their two hopper dredges, the Liberty Island and Ellis Island, is making nice progress on PHASE III of the post-Florence Renourishment Project.
According to the latest update from the Carteret County Shore Protection Office, the Liberty Island has finished pumping west to roughly Arthur Drive from where "LINE 3" lands on the beach (near Scotch Bonnet Drive), and as of this past Saturday is now heading east from Scotch Bonnet Drive currently passing Whitewater Drive.
On the other hand, the Ellis Island is currently serving "LINE 2", which lands west of Bogue Inlet Pier and nourishment continues eastward from this point as they tie in the beachfill from the Liberty Island at Arthur Drive.
"We expect to be completed with this section on or about April 2nd and the Ellis Island will relocate to LINE 4 at Rhett Street and start pumping west from this point on April 2nd (just in time for this upcoming weekend to clear the entire LINE 2 beach region of pipe)," the officials said.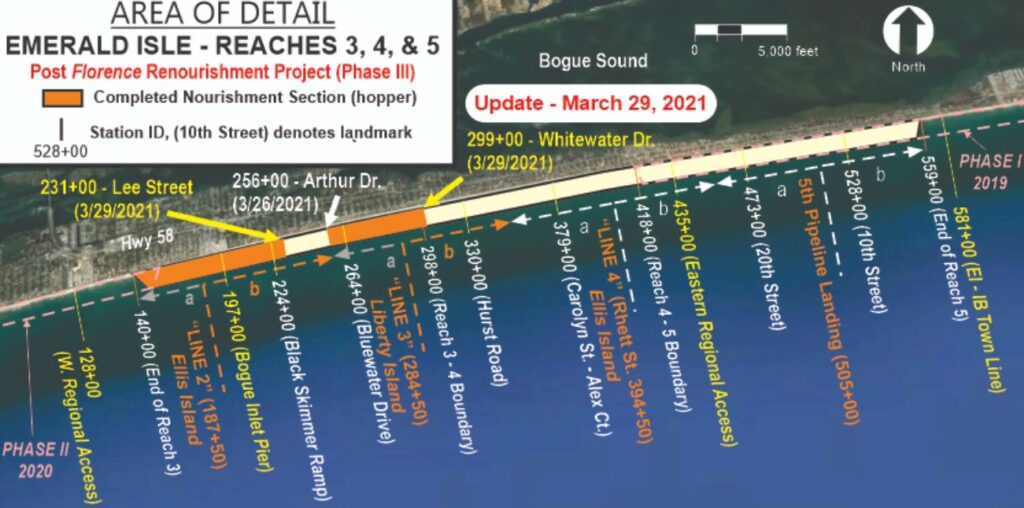 Overall, the Phase III of post-Florence Renourishment Project includes moving more than 2 million cubic yards of sand from the Offshore Dredged Material Disposal Site(ODMDS) – associated with Morehead City Federal Navigation Project – to nourish 9.4 miles of beach in Emerald Isle.
The deadline for completion of works is April 30, 2021.