Van Oord releases the 2020 Annual Report
The General Meeting of Shareholders of Van Oord N.V. was held on 15 April 2021, during which the 2020 Annual Report was presented.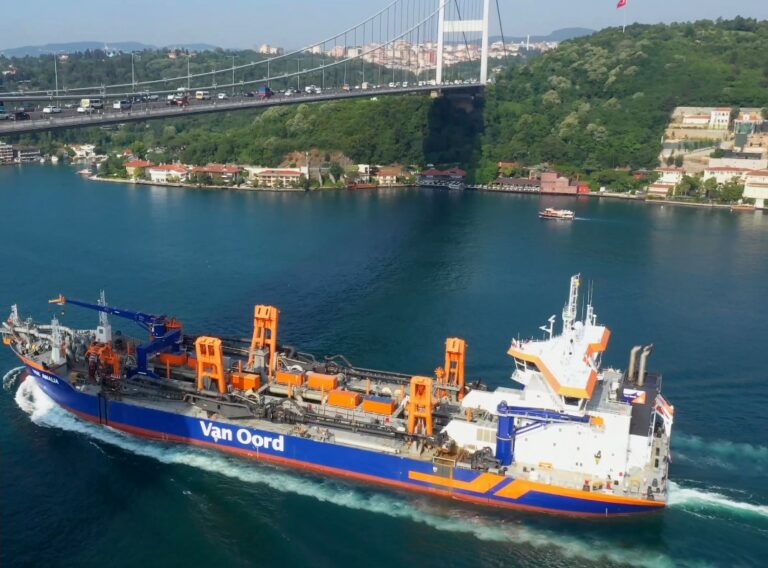 In the Annual Report, Van Oord looked back on a challenging year, providing an overview of the results achieved in 2020, and their strategy.
"Our company had one of the most challenging years in its more than 150 years of history. COVID-19 is having a major impact on Van Oord, with our worldwide activities, and on our employees. Our first priority is the health and well-being of our people. I am proud how effectively we have acted upon COVID-19 and that we managed to keep our business up and running," said Pieter van Oord, Chief Executive Officer.
Investments
In March 2020, Van Oord's new trailing suction hopper dredger Vox Amalia was commissioned. This vessel boasts an in-house design and a hopper capacity of 18,000 cubic metres and is suitable for large segment dredging projects.
The construction of three new LNG hopper dredgers with a hopper capacity of 10,500 cubic metres at Keppel in Singapore was delayed for a few months due to a COVID-19 lockdown in Singapore.
After the summer, work resumed. The first hopper, the Vox Ariane, was launched in January 2021. It will be put into service at the end of 2021. The other two hopper dredgers will follow in 2022. With these three new hopper dredgers, the company is largely replacing the mid-class section of its dredging fleet.
Van Oord is also building two state-of-the-art water injection dredgers (WIDs) at the Kooiman shipyard in Zwijndrecht. These WIDs will replace the first generation of WIDs, which were put into service around 1990.
"Van Oord and its legal predecessors invented water injection dredging. We continue to uphold the company's innovative spirit and are still the leader in this working method," added Pieter van Oord.
Dredging
According to Pieter van Oord, the difficult market conditions in the Dredging business unit did not improve in 2020. The impact of COVID-19 resulted in a particularly low contract award volume.
The tender volume was higher than last year. The capacity utilisation of the hopper and cutter fleet was low (hoppers: 23 weeks in 2020 vs 22 weeks in 2019, cutter suction dredgers: 16 weeks in 2020 vs 21 weeks in 2019) – too low for healthy returns.
The operational performance of the business unit was good. There were no major project losses. In 2020, a major reorganisation took place within the Dredging business unit. Substantial savings were made on the overhead costs. An operations department was also set up with global responsibility for the execution of dredging projects.
Outlook 2021
"The world has started the new year with mixed feelings. On the one hand, the vaccination programme has started. On the other hand, our lives are still dominated by COVID-19," continued Pieter van Oord. "Nevertheless, we believe an economic turnaround is on the horizon in 2021. The economic recovery will also have a positive effect on our markets. In particular, we expect a recovery in the dredging and offshore oil and gas markets."
Another important thing is new corporate strategy that Van Oord developed in early 2021. "This strategy outlines our ambition to achieve sustainable profitable growth in the coming decade. The starting points for our business are solid: motivated, competitive and qualified employees, a strong balance sheet position, the ambition to excel in our markets, and innovative assets," concluded Pieter van Oord.