Stage two of the Apollo Bay Foreshore Protection Project is now underway with approximately 650 metres of new rock revetment being built along the foreshore north of Milford Street.
New groynes will also be constructed followed by sand renourishment to fill the space next to the structures and prevent scouring of the beach to the north, and revegetation works will also take place.
Over $7.4 million has been invested in new coastal protection assets in and around Apollo Bay.
The $4.4 million of funding for Stage 2 is part of the Victorian Budget 2020-21. The project will be completed by December 2021.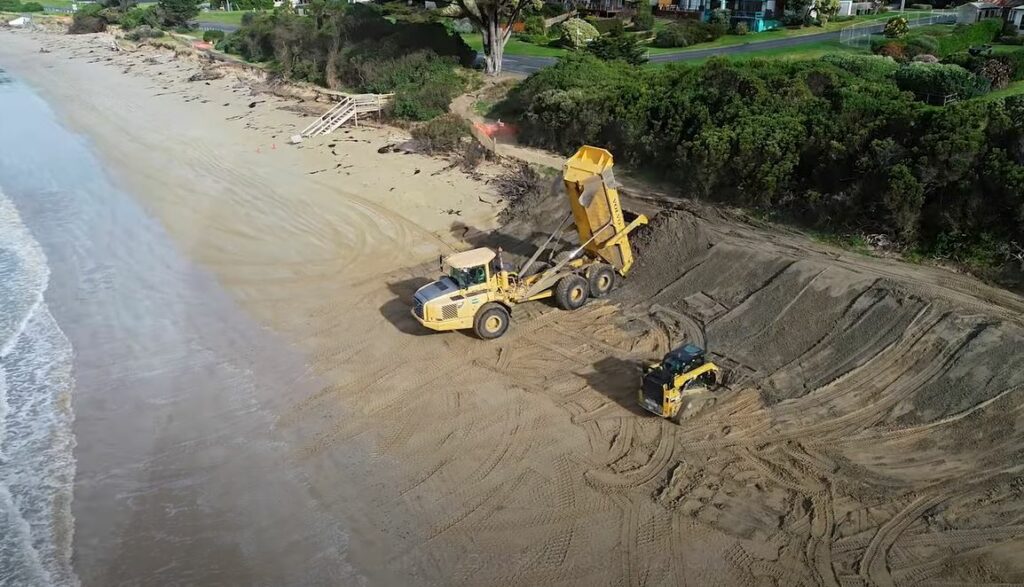 Also, Stage two of a beach renourishment at St Leonards has commenced in front of Salt Lagoon along the Esplanade in St Leonards.
Approximately 35,000 m3 of sand will be pumped onshore and 25,000 m3 will be used to construct the beach profile while the remaining sand will be used to replenish beaches at Indented Head and St Leonards.
The sand harvesting will take place over several months. During the works a barge and sand sourcing equipment will be stationed approximately 800 metres offshore, in front of Salt Lagoon alongside the Esplanade.
The newly constructed beaches will provide an immediate buffer to storms and rising sea levels and safeguard key assets and coastal infrastructure
Photo: Department of Environment, Land, Water & Planning Victoria