Sealevel wins awards for the Grand Bayou Floodgate project
Sealevel Construction Inc. recently won two Excellence in Construction (EIC) Awards for the Grand Bayou Flood Control Structure and two EIC awards for an industrial waste water improvements project.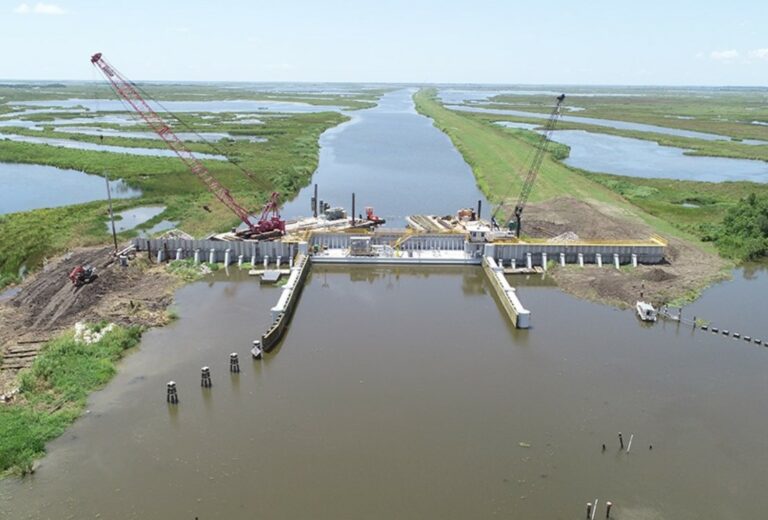 The company was recognized at the Associated Builders and Contractors (ABC) Houston Chapter's EIC awards program and will be recognized at the ABC Pelican Chapter's awards banquet in December.
President Richard Roth said, "Both projects required safe performance, innovation, value engineering, and extensive planning and coordination. We are very proud of our industrial and municipal divisions for executing these multifaceted projects with the above-mentioned criteria top of mind."
Sealevel received an EIC Award of Merit for its Grand Bayou Flood Control Structure. As the general contractor, Sealevel self-performed all major components of the flood wall, which provides approximately 524 linear feet of flood protection for the lower communities of Terrebonne and Lafourche Parishes.
Sealevel's fabrication division, Specks Fabrication and Cutting, also fabricated the jacket receiving structures for the project. Once the two 22'-tall structures were complete, they were transported from Sealevel's marine yard, Eagle Drydock and Marine Services, to the job site for installation.
Municipal Division Manager Justin Lane said, "Our team worked safely and diligently throughout the entire project, especially when an emergency contract was issued by the owner four days prior to Hurricane Delta making landfall in Louisiana."
This time-sensitive, emergency contract required Sealevel's team to sink and secure a temporary barge near the location of the permanent structure. Working around the clock, Sealevel was able to complete the emergency work in three days.
The team resumed construction once the hurricane had passed and later completed the permanent, 21-million-dollar project under budget and with zero safety incidents.