The U.S. Army Corps of Engineers' Portland District has one of the nation's most comprehensive and diversified civil works programs, covering most of Oregon and southwestern Washington.
The District operates locks and dams along the Columbia River, operates dams in the Willamette Valley for flood risk management, maintains Oregon's coastal rivers for navigation, etc.
Their hopper dredges Yaquina and Essayons work to ensure a safe "highway" for ships and other vessels.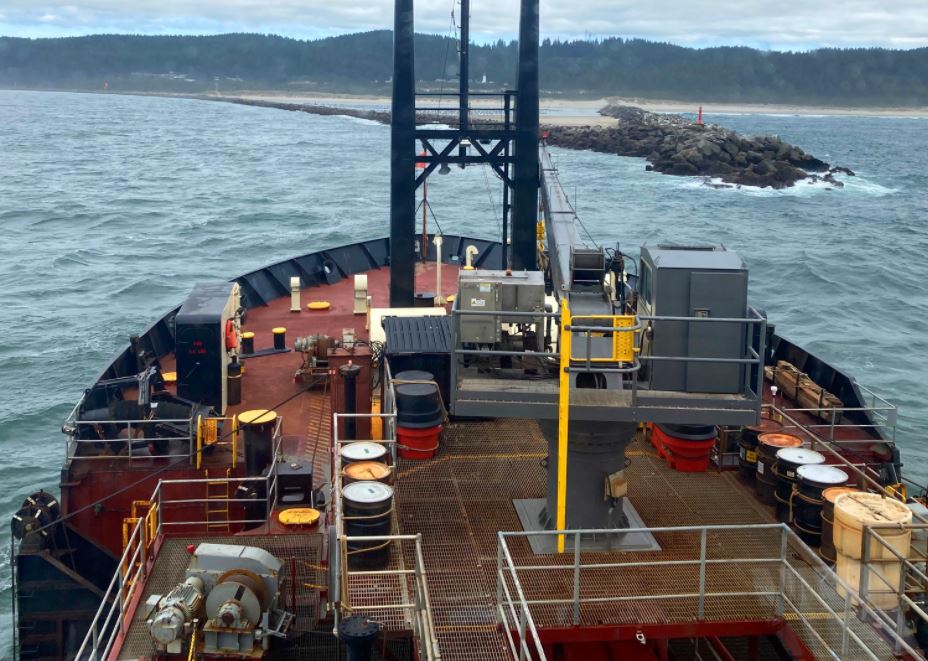 Here is a "by the numbers" look at what the hopper dredge crews accomplished in 2021:
Places dredged (Essayons): Grays Harbor, WA; Columbia River; Mouth of the Columbia River; Coos Bay, OR; Humboldt Bay, CA; Pinole Shoal, CA; Suisun Bay, CA;
Places dredged (Yaquina): Grays Harbor, WA; Columbia River (Vancouver to The Dalles); Yaquina Bay, OR; Coos Bay, OR; Siuslaw River; Coquille River; Umpqua River; Chetco River; Morro Bay, CA;
Emergency dredging: Suisun Bay, CA;
Days spent sucking sand: 183 (Essayons)/196 (Yaquina);
Special projects: Off-shore sediment placement to benefit the Mouth of the Columbia jetties and re-nourish adjacent beaches;
Total volume of sediment sucked: 7.5 million cubic yards, etc.
Photo: Sandy Wirkkala, USACE