NEOM, Riyad Bank sign Sindalah financing deal
NEOM has signed an agreement with Riyad Bank for SAR 3 billion ($800 million) in debt financing to help fund the development of Sindalah, marking the first NEOM region to be successfully financed with bank debt.
Extending over an area of approximately 840,000 square meters, Sindalah, is one of a group of islands that will be developed in NEOM, each according to its unique vision and design.
Sindalah is expected to start welcoming guests from early 2024. It is anticipated that the development will create 3,500 jobs for the tourism sector and hospitality and leisure services.
With its incredible array of amenities, marine facilities, strategic location and exceptional natural landscapes, Sindalah is expected to become established as one of the most alluring islands in the Red Sea.
Rayan Fayez, Deputy CEO, NEOM said: "The Sindalah debt financing signifies NEOM's desire to diversify its funding sources, involve the private sector and attract capital of all types in the development of NEOM. We have a number of projects currently underway, and in the pipeline, that represent very attractive commercial opportunities for the global financial community to participate in."
Boskalis takes part in Neom
Boskalis has won a contract for a Red Sea port development to service the new futuristic city.
A couple of months ago, the Dutch giant was awarded "a significant contract for the development of a port on the Red Sea coastline of Saudi Arabia as the first step in the development of a new futuristic city," the company said.
The dredging scope will be executed with a mega cutter suction dredger and this project is expected to be completed by mid-2025.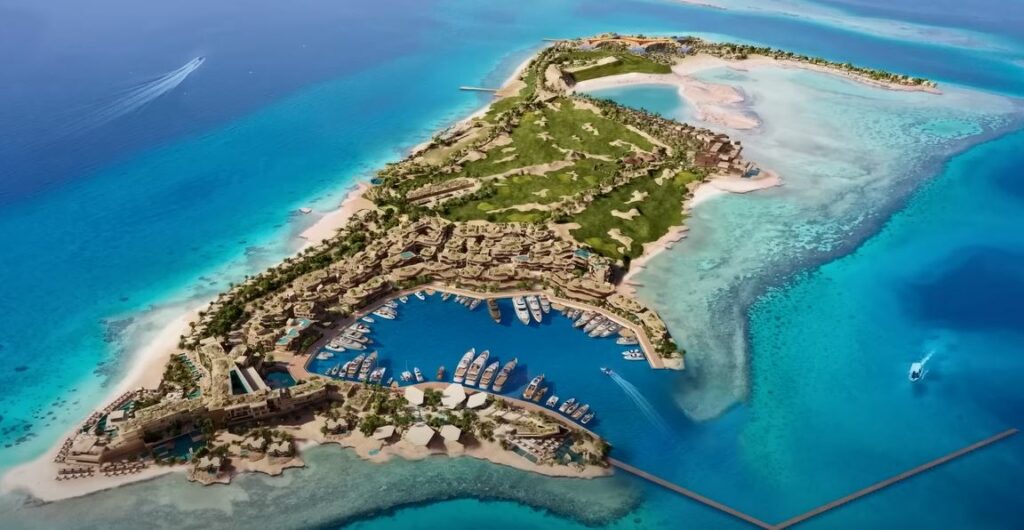 A number of regions included
Neom will be made up of a number of regions – including The Line, center for advanced and clean industries Oxagon, the mountain destination Trojena and the luxury island resort Sindalah.
Oxagon is planned as an octagon-shaped port city that will be built on the Red Sea at the far south of the Neom region. According to Neom's developer, the port and logistics hub will be the "world's largest floating structure".
Trojena is planned as ski resort in the Sarwat Mountains near the north of the Neom region. The 60-square-kilometre skiing and outdoor-activity resort will offer year-round skiing and is set to host the 2029 Asian Winter Games.
Sindalah is planned as an island resort within the Red Sea. Aimed at the yachting community, the 840,000 square metre island will have an 86-berth marina and numerous hotels.