Spotlight on LA River Ecosystem Restoration Project
Pete Perez, chief of Engineering and Construction for the U.S. Army Corps of Engineers, Headquarters, continued his visit with leaders and other subject-matter experts with the Los Angeles District, U.S. Army Corps of Engineers during several stops along the Los Angeles River Aug. 3 to discuss updates on the LA River Ecosystem Restoration Project.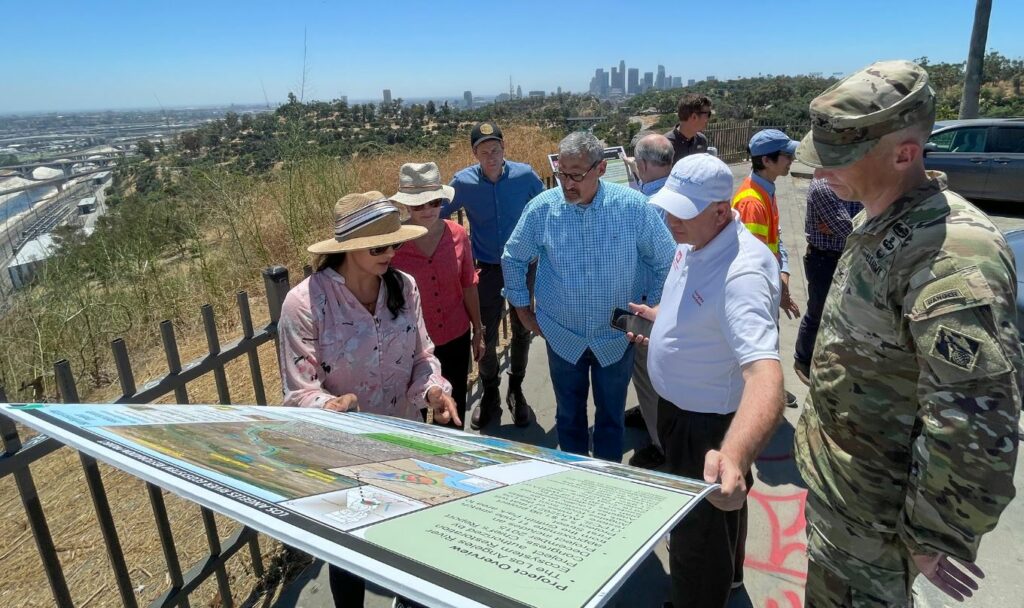 Perez was once again joined by John Moreno, programs director for USACE South Pacific Division; Susan Lucas, deputy of the South Pacific Division/South Atlantic Division Regional Integration Team; Micah Buchholz, water resources engineer with Headquarters; and John Keever, Engineering and Construction chief for the South Pacific Division, as they met with Col. Andrew Baker, LA District commander, and LA District key leaders and engineers.
About the LA River Ecosystem Restoration Project
The study evaluates alternatives for the purpose of restoring 11 miles of the river from approximately Griffith Park to downtown Los Angeles while maintaining existing levels of flood-risk management.
Restoration measures include creation and re-establishment of historic riparian and freshwater marsh habitat to support increased populations of wildlife and enhance habitat connectivity within the study area, as well as to provide opportunities for regional connectivity to ecological zones such as the Santa Monica Mountains, Verdugo Hills, Elysian Hills and San Gabriel Mountains.
Restoration also includes the re-introduction of ecological and fluvial processes through a more natural hydrologic regime, which reconnects the river to historic floodplains and tributaries, reduces flow velocities, increases infiltration and improves natural sediment processes.