Shrewsbury Flood Defenses Being Repaired
The Environment Agency has begun work to maintain and replace 25 meters of sandstone cladding on the Frankwell flood defenses in Shrewsbury.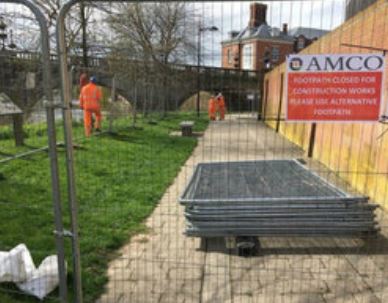 The existing flood defenses consist of a flood wall that has a strong concrete core. The work being carried out is replacing the sandstone cladding that covers the main part of the wall, that helps protect homes and businesses from flooding, reported the EA.
"While this work is happening there is no change to the standard of protection offered by the flood defense and the repairs taking place are mainly for aesthetic and public safety purposes," the Environment Agency added. "In the event that the demountable flood barriers at Frankwell are required, the repair works will not affect any aspect of the deployment and the flood defense will still continue to perform normally and effectively at times of flood."
"We're pleased to be able to carry out this work. While it is largely cosmetic as no work is needed on the main concrete core of the flood wall, we're keen to make sure flood defenses remain in keeping with the area," said Toby Whitehouse from the Environment Agency.
The work is expected to take approximately 3 weeks to complete, and throughout the works, access for the public around the work and to the life buoys will be maintained.
[mappress mapid="25078″]