Government Invests in Reconstruction of Graham's Pond Harbor
The Government of Canada said in their latest release that Graham's Pond Harbor will soon see some critical repairs, aimed to improve services and benefit the local economy in the community of Gaspereaux.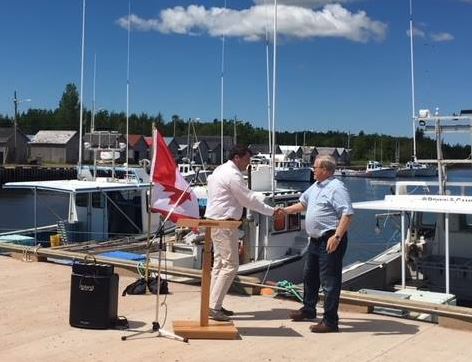 Coastal communities across Canada are supported by small craft harbors that provide the commercial fishing industry with safe and accessible facilities.
"With approximately 44,000 Canadians employed in this sector, the Government of Canada is making investments to renew its network of small craft harbors and work with municipalities and other stakeholders where investments and divestitures can enhance local communities," the Government stated in the announcement.
The Honorable Dominic LeBlanc, Minister of Fisheries, Oceans and the Canadian Coast Guard, and the Honorable Lawrence MacAulay, Minister of Agriculture and Agri‑Food and Member of Parliament for Cardigan, informed the community that the reconstruction of the north and south breakwaters, as well as repairs to the wharf – including a new deck – will begin in the fall of 2018.
"I'm pleased to see that work will begin soon on these critical repairs to Graham's Pond Harbor. This investment helps not just the commercial fishing industry, but the riding of Cardigan as a whole. I am proud of the work being done to improve harbor services, promoting inclusive growth in order to build a stronger community," said MacAulay.
"The reconstruction of these breakwaters will not only improve safety and maintain the infrastructure that is essential to the region, but will also stimulate job opportunities that will benefit fishers and support our local communities."
Work on the wharf will be completed by spring 2019 while work on the breakwaters will begin in early 2019.
Breakwater reconstruction will provide protection to the entire harbor through the reduction of wave impact on berthage and harbor infrastructure. Wharf repairs will seek to extend the life of the existing structure and improve services to the harbor users.
This is in addition to $100 million that will be invested in 2018-19 for repairs, maintenance, construction, and dredging at core commercial fishing harbors across Canada.