Port of Everett $36 Million South Terminal Wharf Modernization Project Underway
The Port of Everett yesterday hosted a groundbreaking to commemorate the start of construction on the Port's South Terminal Modernization project – the largest capital project in Port history by dollar value, and the largest maritime construction project on the West Coast today.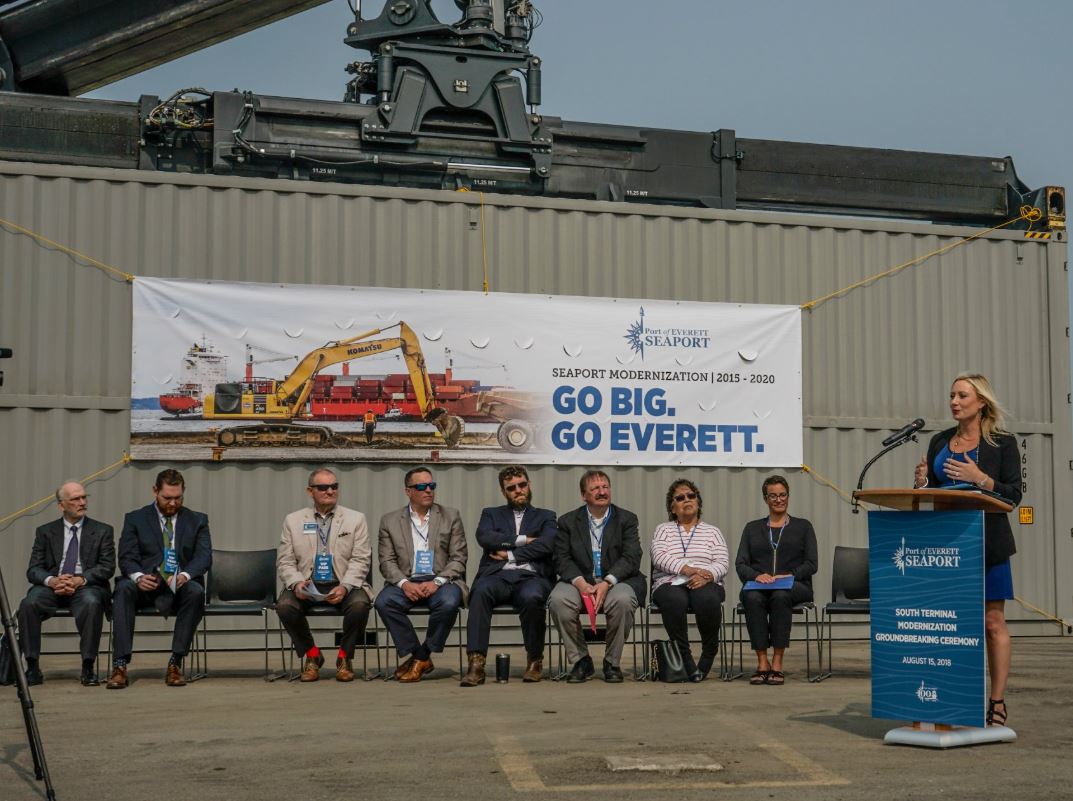 According to the officials, this $36 million South Terminal Modernization project will ensure the Port's facilities are ready to support the next generation of over-dimensional cargo, including aerospace parts for the new 777X.
"I find it fitting that as we celebrate the Port of Everett's centennial year in 2018, we continue to be forward-thinking, preparing the Port's infrastructure to carry us into our next 100 years," said Glen Bachman, Port of Everett Commission President during the groundbreaking ceremony.
"Here we celebrate the kick-off the much-anticipated South Terminal Modernization project that will bring more JOBS, PROSPERITY AND COMMERCE to the waterfront," said Lisa Lefeber, Port of Everett Acting CEO.
"Since 2015, the Port has invested millions of dollars to adapt its facilities to support the next generation of shipping, and this major infrastructure investment is a continuation of that effort. This project has come to fruition thanks to the strong, reliable and forward-thinking leadership of our Port Commission and the continuous support of our project partners at the local, state, federal and tribal levels," added Lisa Lefeber.
The South Terminal facility is a key piece of the Port's overall Seaport Modernization efforts. It's the largest of the Port's docks by land footprint; however, the dock was originally built in the 1970s to support log operations, and in its current state, can only accommodate 500 pounds per square foot (psf). Modern cargo operations require a minimum of 1,000 psf.
The South Terminal Modernization Project (Phase II) strengthens the remaining 560-feet of the 700-foot South Terminal dock structure (140-feet was strengthened as part of Phase I in 2015). Upon completion, the dock will be strong enough to accommodate two, 100-foot gauge rail-mounted container cranes and provide vaults for ships to plug into shorepower while at the dock.