Oxford Flood Alleviation Scheme Gaining Momentum
The Environment Agency is working with partners on a major new scheme that will reduce flood risk to homes and businesses in Oxford, as well as to services and major transport routes into the city.
The Oxford Flood Alleviation Scheme will cost around £121 million and is one of the biggest flood schemes in the country, second only to the River Thames Scheme planned for further down the River Thames.
In its latest update on the project, the EA reported that a decision on the planning application for the scheme is expected by the end of 2018.
The project team has been negotiating with landowners to obtain permission to use their land. Landowners impacted by permanent or temporary work, and people who have an interest in land impacted by permanent or temporary work have been contacted directly by the project land agents, said the Environment Agency.
The EA also added that Compulsory Purchase Order (CPO) letters have been sent out to landowners and anyone else who may have an interest in land that is impacted by the scheme on a permanent or temporary basis.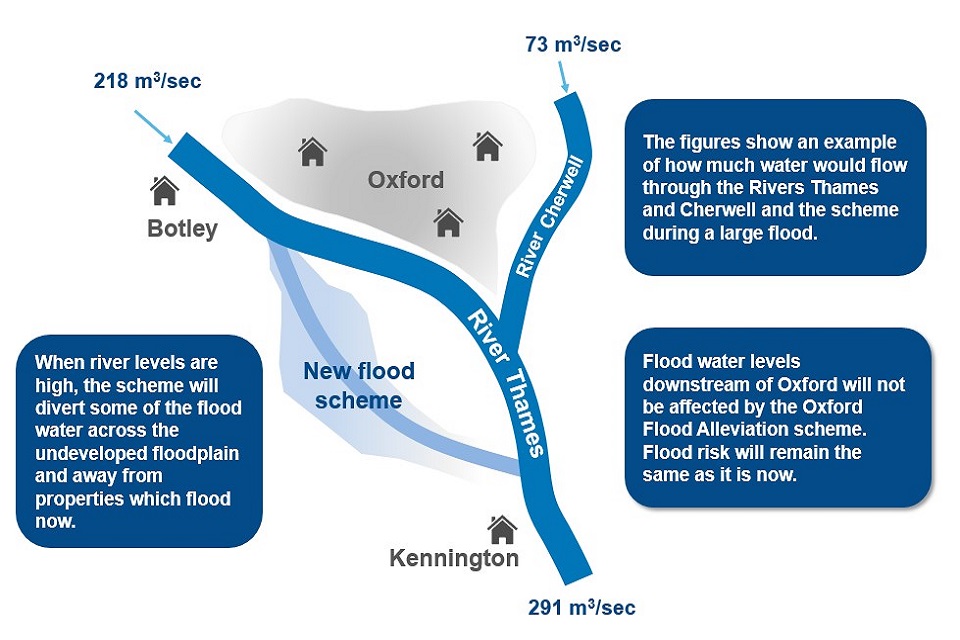 How the scheme will work
The project will enhance the existing floodplain west of Oxford, most of which is farmland and flood meadow. Material will be removed to lower the natural floodplain in this area so it can carry more floodwater.
This will create a narrow, deeper channel, which will always carry water, and a wider shallower area to the side of this, which will be planted with vegetation and will only carry water during a flood. This 'two-stage channel' design imitates the natural floodplain whilst making more space for water to flow during flooding.
The second stage wider part of the channel has been designed to be grazed by cattle to create floodplain grazing marsh. This is a new habitat type for the scheme area which will increase habitat diversity.
The scheme makes use of the natural channel design and existing streams as much as possible, keeping hard engineering to a minimum. However in some areas additional structures are needed.
There will be 3 permanent defenses built to protect houses which would otherwise still flood. These will be a combination of embankments and flood walls. There will also be a number of new bridges and culverts to carry water under major roads.