Interview with NMDC's Yasser Zaghloul: Utilizing the Latest Technologies in Dredging Sector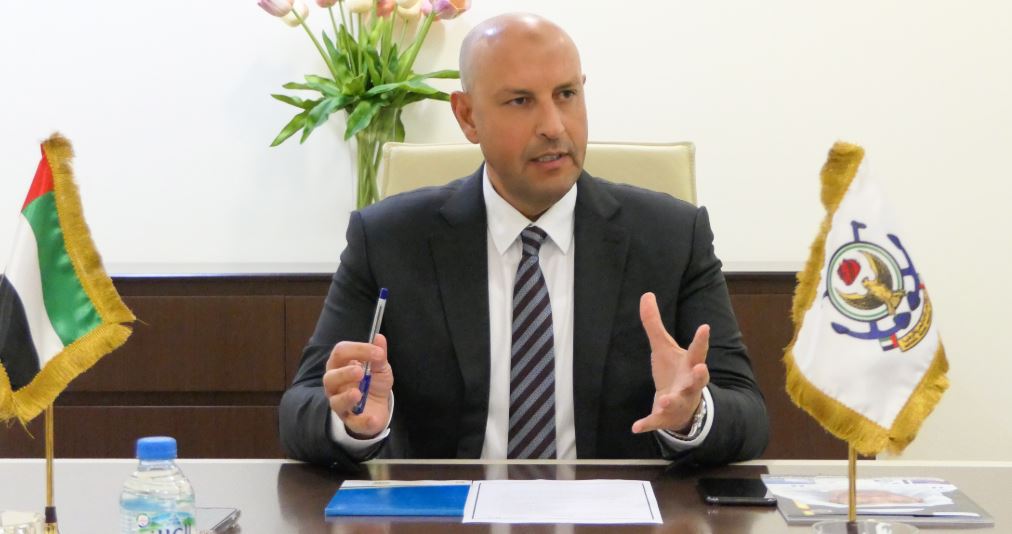 Eng. Yasser Zaghloul, Chief Executive Officer of National Marine Dredging Company (NMDC), has been recently interviewed by Marasi News and he said that the company developed and expanded its portfolio of projects and operations throughout 2018 and into 2019.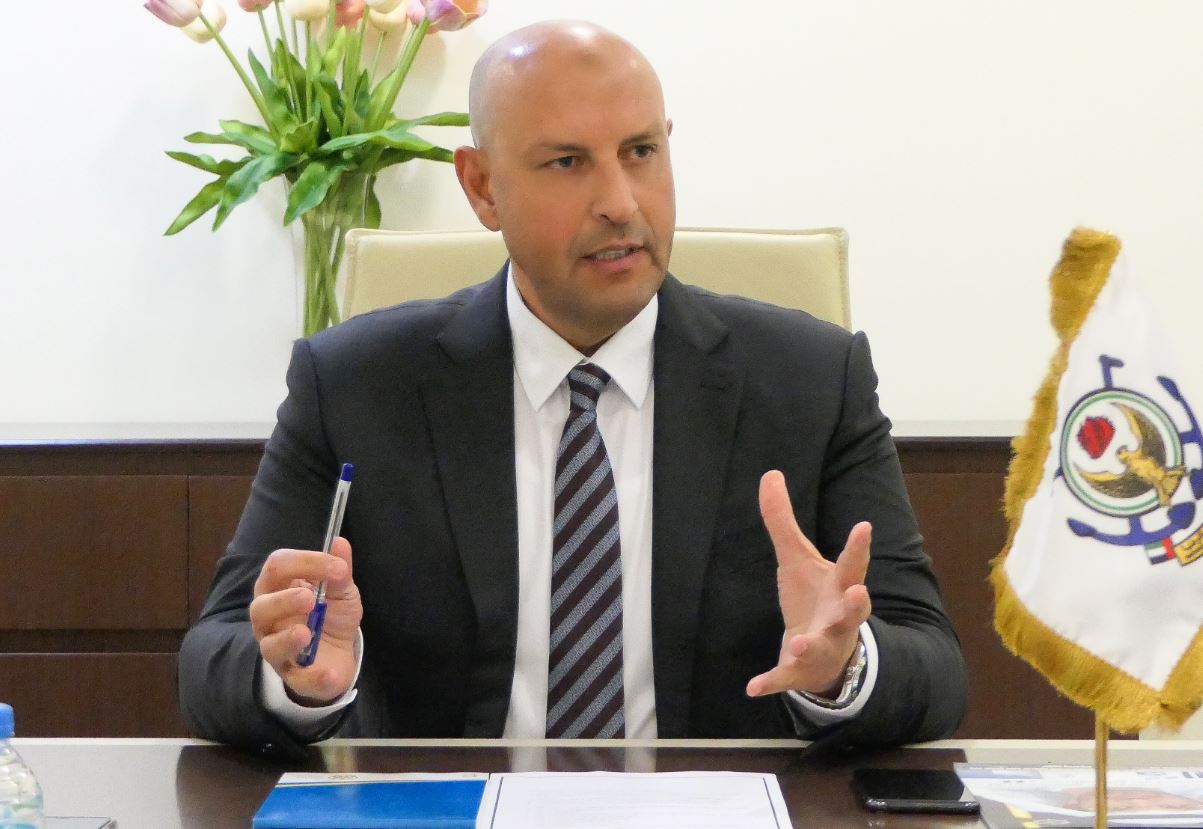 In this exclusive interview, Zaghloul clarified that the company's performance is based on its vision to reinforce its position as regional leader in marine dredging, and to provide the best services for all customers, especially with its competitive capabilities and infrastructure.
Q: Can you give us an overview of the NMDC's progress, and how have you reached this leading position?
Zaghloul: The National Marine Dredging Company is a UAE public listed company that is a leader in marine dredging projects. Over four decades, NMDC has accumulated extensive experiences through implementing several pioneering projects.
Thanks to its capabilities, expertise and exceptional workforce, NMDC is today one of the most prominent companies worldwide in marine dredging, drilling and deepening of waterways and ports, as well as marine construction work.
We provide our services according to the highest international standards with highly-skilled and experienced national and foreign caliber. We have used our knowledge of the region and our understanding of its characteristics to develop techniques that have significantly raised security and safety standards.
In order to maintain our global leadership, we have enhanced the company's strategy that we have implemented for the past 10 years. This depends on key pillars including diversifying our portfolio, re-evaluating our structure and cost, and investing in infrastructure development according to our strategic plans.
Q: What are your current priorities?
Zaghloul: Despite the big challenges facing the maritime sector currently, NMDC is moving forward with ambitious plans to increase its capacity by implementing projects that are worth millions of dollars. Therefore, we take into account many priorities based on the new strategy to expand our portfolio and provide a range of distinguished services through state-of-the-art equipment and modern technologies.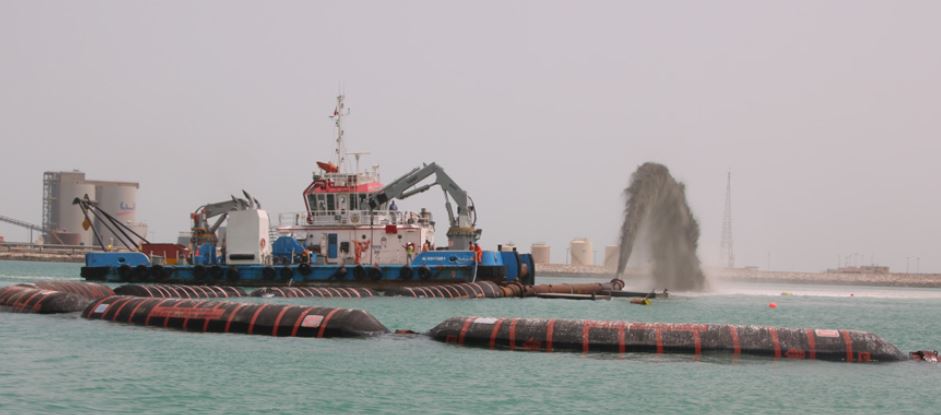 Our goal is to become "An Integrated and Leading Middle East EPC Contractor,' especially that Abu Dhabi, with its world-class reputation, advanced infrastructure, and huge investment and service capabilities, has become one of the most attractive cities worldwide for international companies.
One of our top priorities, which we consider to be a unique point of distinction, is that we strive to ensure our capability to meet customers' needs. We seek to maintain the company's position as the preferred choice locally, as well as increase our global competitiveness. I would like to reiterate our commitment to developing our capabilities to meet global market needs by utilizing the latest technologies in the marine dredging sector.
NMDC uses a new generation of computerized large dredging vessels, where dredging levels can be automatically set.
Q: Can you tell us about NMDC's key projects and future expansions?
Zaghloul: We have maintained excellent performance recently and have delivered new quality projects both locally and internationally. We successfully delivered the Zakum project, which was described as the most difficult project worldwide.
This has helped NMDC claim a new global position among the best five marine drilling and dredging companies in the world.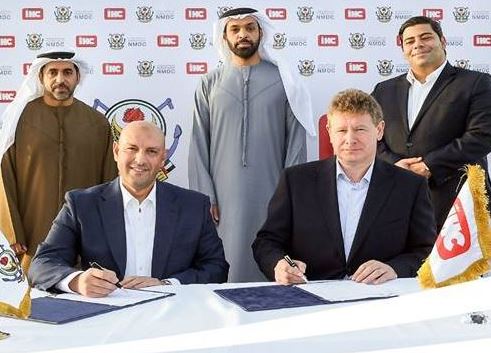 The company continued implementing several government-related infrastructure projects in the UAE including the AED1.1 billion Khalifa Port expansion, deepening of existing channels in East of Abu Dhabi, Khalifa Port's second container terminal, Hudaryiat Beach works and Ruwais Resort Island.
Other non-government projects include reclaiming six hectares of land for public use at Makers District in Reem Island and backfilling at Bourouge in Ruwais. Earlier, we won an $82 million project in the Maldives as part of our international expansion strategy.
In terms of our fleet expansions, we have recently added two dredgers from Royal IHC and Ravestein.
Q: What about NMDC's growth in 2018?
Zaghloul: Inline with the company's new strategy to focus on service diversification and personnel management, NDMC has achieved the planned financial and operational results for 2018 despite the difficulties encountered by the maritime sector locally and globally.
We achieved 7% growth in revenue and 25% growth in profits compared to 2017. This was due to the joint efforts of the company's board members and the management as well as working as one team.
Q: NDMC recently won ADNOC's Ghasha Concession project. What does this deal mean for you?
Zaghloul: What's more important than winning the project is ADNOC's trust in our efficient services. This is not the first time that we collaborate on big projects. As per the contract, NMDC will construct 10 new artificial islands and two causeways, as well as expand an existing island; Al Ghaf.
The project is expected to take 38 months to complete and will provide the infrastructure required to further develop, drill and produce gas from the sour gas fields in the Ghasha Concession, which consists of the Hail, Ghasha, Dalma, Nasr and Mubarraz offshore fields.
At peak construction, the project is expected to employ over 3,500 people. I believe that awarding this AED5.1 billion project to a national company like us following a competitive tendering process, underlines ADNOC's commitment to diversifying and supporting the national economy by creating a significant added value.
Q: What about your recent projects in Egypt?
Zaghloul: We are proud that the UAE and Egypt have robust ties that are role model for other countries, especially the economic relations. The UAE tops the list of countries that implement development projects and enter into economic partnerships in Egypt, especially in the Suez Canal area.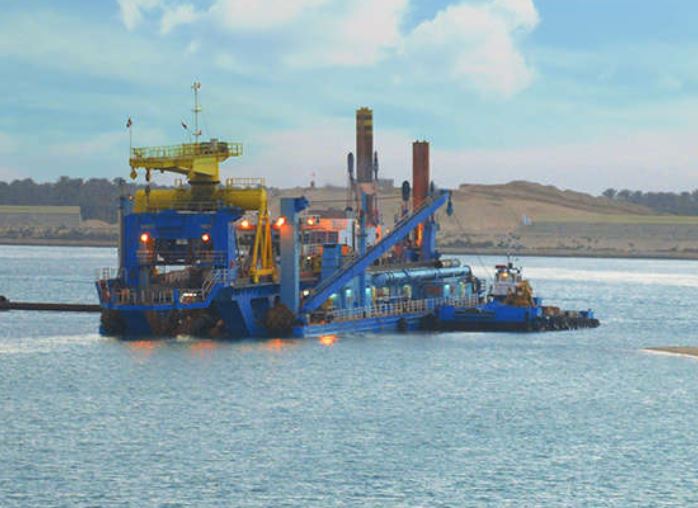 Last year, we established the Egyptian Emirates Marine Dredging Company (EEMDC) , as a result of our partnership between the Suez Canal Authority with a capital of 200 million Egyptian pounds.
EEMDC recently won six projects valued at AED1.46 billion. The first is Ras Gargoub dredging, worth AED493.53 million; the second is Ras Gargoub Quay, worth AED84.5 million; the third is Port of Adabiya Quay, worth AED5.48 million; the fourth is Lake Manzala, worth AED414.67 million; the fifth is Damietta Port, worth AED54 million; and the sixth project is Ras Banas, worth AED65.6 million.
Q: In your opinion, how important is it to qualify the UAE calibre in the maritime sector? And what does NMDC offer to them?
Zaghloul: At NMDC, we are committed to training and developing our staff through regular and ongoing training programs, in order to develop their skills and capabilities. We have established a specialized programs for Emirati talents. The management supports the UAE's Emiratization plans by providing effective programs targeting distinguished Emiratis. We also have the latest dredging vessel simulators that give a realistic experience to trainees.
Our programs provide trainees with intensive academic and practical trainings to be able to review the latest technologies and acquire comprehensive information about marine dredging in general.
These programs also help develop candidates' capabilities and make them professionally prepared to contribute to the company's development. Through these training programs, NMDC aims to encourage more Emiratis to join the maritime sector.
Q: Safety and security are key issues worldwide. How do you meet the safety standards?
Zaghloul: Health, safety, security and the environment are our top priorities in all our projects. People are our most valuable assets. That's why, we give priority to health, safety, security and the environment measures at the expense of the financial aspect in our staff's  key performance indicators.
Since its establishment, NMDC has attracted highly-skilled and experienced professionals to implement the Integrated Health, Safety and Environment Management Program adopted by the Abu Dhabi Occupational Safety and Health Center, as well as supervise the training of staff in all departments to achieve a safe working environment.
Q: In your opinion, what qualifies Abu Dhabi to be a global hub for the maritime sector?
Zaghloul: Abu Dhabi has a clear vision to be a leader in all areas, especially the industrial and economic sectors. All Abu Dhabi-based organisations and companies thrive to achieve the Abu Dhabi Economic Vision 2030 to diversify the economy.
The maritime sector is one of the key sectors that is making every effort to achieve the Emirate's goals, and enhance its position as a leader and a global hub for the maritime sector. Abu Dhabi's location coupled with its modern facilities and stat-of-the-art infrastructure play an important role in making the Emirate a strategic maritime center.
Courtesy of Marasi News