PHOTO: Cashman Dredging Crew Busy in Boston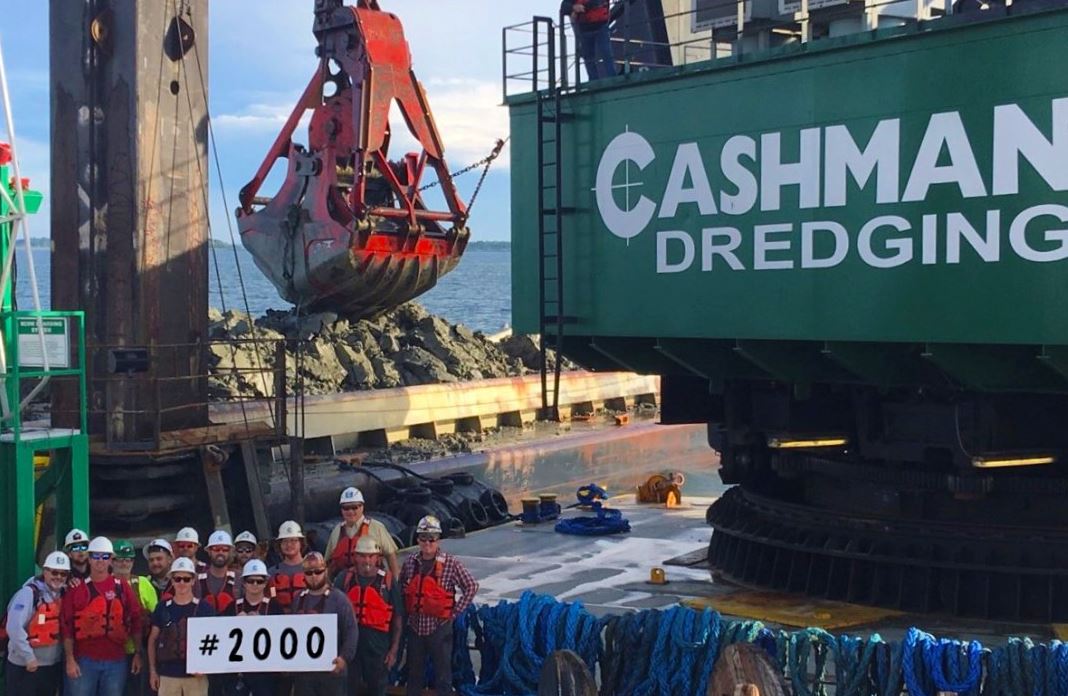 Cashman Dredging & Marine Contracting Co., LLC has announced that the dump scow Kurt Schulte departed the dredger Dale Pyatt last week to offload the 2,000th scow of dredged material on the USACE Boston Harbor Improvement Deepening Project.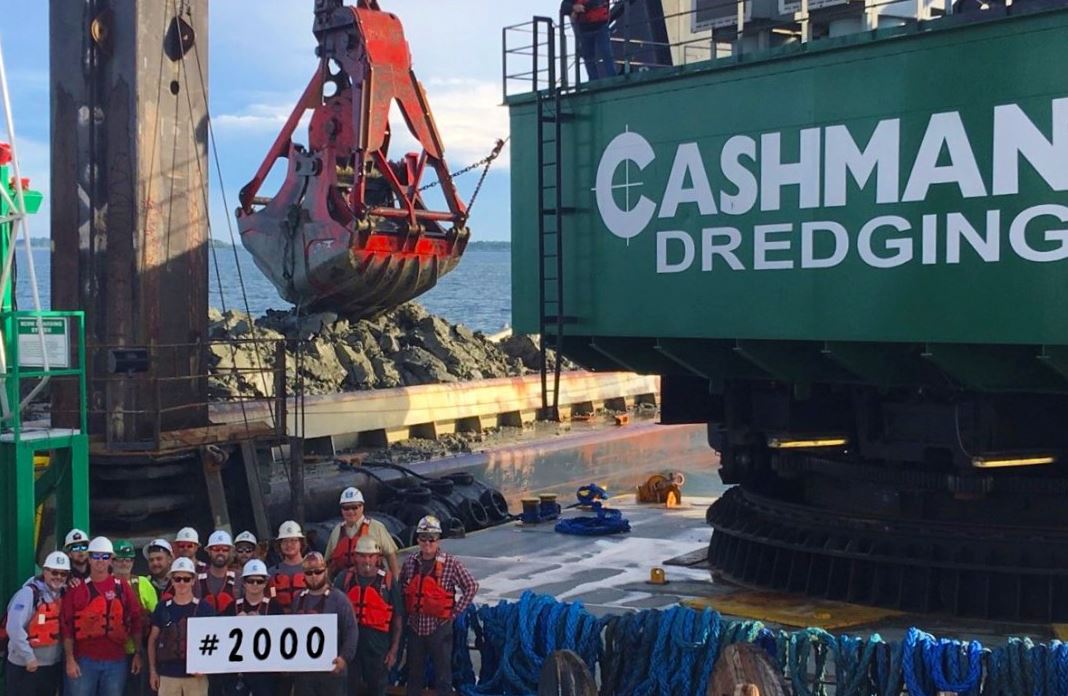 Cashman has just released this beautiful photo of the dredger Dale Pyatt crew and the survey vessel Cape Elizabeth crew.
The dredge material is being placed in the Massachusetts Bay Disposal Site (MBDS), approximately 20 miles offshore of Boston Harbor, with the exception of a small fraction of the material that was placed as a cap to the Main Ship Channel Confined Aquatic Disposal (CAD) cell, just downstream of the inner confluence of the Chelsea and Mystic Rivers.
Approximately 50% of the project has been completed to date.
Background
This is a three phase project.
Phase 1 (completed) involved constructing a Confined Aquatic Disposal (CAD) cell by dredging 1,000,000 cubic yards of material and disposing of that material at the Massachusetts Bay Disposal Site.
Once the CAD cell was constructed, maintenance dredging of approximately 800,000 cubic yards of silty material from portions of the 40-foot Main Ship Channel, the 40-foot deep Inner Confluence, and portions of the 35-foot deep channel, were placed into the newly constructed CAD cell. The $12.8 million contract was awarded to Great Lakes Dredge and Dock of Oak Brook, Illinois, in September 2016.
Construction started in July 2017 and was completed in December 2017.
Phase 2 (currently ongoing) involves dredging 11.7 million cubic yards of silt, blue clay, till and weathered rock. The $122.2 million contract was awarded to the Joint Venture of Cashman Dredging, Inc. and Dutra Group in February 2018. Construction started in July 2018 and is anticipated to be completed in October 2021.
The milestone of dredging 4 million cubic yards of material for phase 2 was reached on April 5, 2019.
Phase 3 (future work) will involve removing approximately 200,000 to 500,000 cubic yards of hard rock. The contract solicitation is anticipated to be released in spring 2020 with the work getting underway later that year and when finished will then complete the entire Boston Harbor Improvement project.
Completion of the entire project is expected by December 2021.