Shallowbag Bay dredging work wraps up
A 90-day dredging project to deepen and widen the channels within Shallowbag Bay and Roanoke Sound in Manteo has been completed, Dare County reports.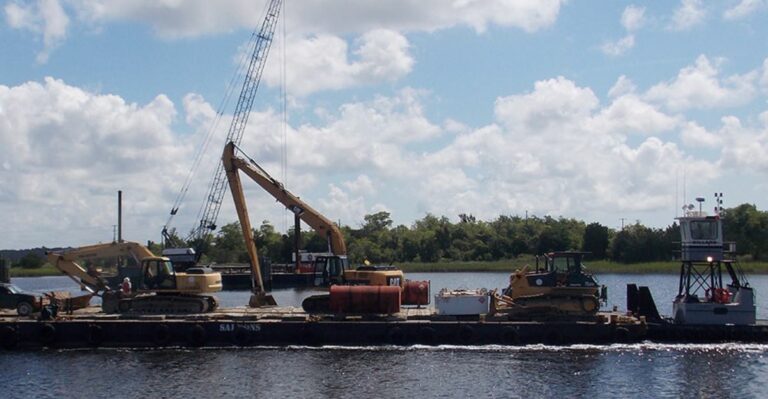 The main goal of this program is to open up the waterways for many vessels that had previously been unable to navigate the shallow waters due to shoaling – including the Elizabeth II sailing ship docked at Roanoke Island Festival Park.  
The Dare County Board of Commissioners on Nov. 16, 2020, unanimously approved a contract and grant application for the dredging project, which consisted of maintenance dredging within Ranges 1-5 of the Manteo Federal Navigation Project – approximately 2.2 miles within Shallowbag Bay and Roanoke Sound.
In addition, a connector channel that extends approximately 290 feet from the northern terminus of Range 1 to the berth of the Elizabeth II was also dredged.   
The purpose of the dredging project was to deepen the channel from its previous depths of 1-5 feet and 6-7 feet to the 9-foot depth that is required in order to allow larger vessels to safely navigate the waterway. The channel was also widened to 50 feet.
In addition to deepening and widening the channel to allow for the safe passage of vessels, another primary aim of the project was to make it possible for the Elizabeth II to finally leave its port at Roanoke Island Festival Park and head to Wanchese, where it would undergo much-needed maintenance. 
The dredging project – performed by Salmons Dredging Inc. – began at the end of November 2020 and was completed at the end of February 2021. 
Funding for the dredging project was provided primarily by the state of North Carolina, with the North Carolina General Assembly having allotted $1.9 million to pay for the project.
An additional $170,000 was provided by the state's Shallow Draft Navigation Channel Dredging and Aquatic Weed Fund and the Town of Manteo.