DCIL celebrates 45th anniversary
Dredging Corporation of India Limited (DCIL) recently celebrated the 45th anniversary of the company's founding at its Head Office in Visakhapatnam, Andhra Pradesh.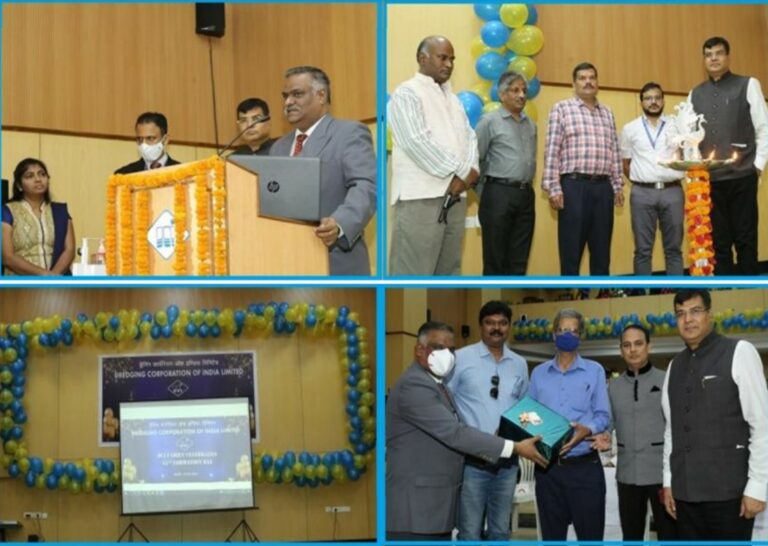 The India's premier dredging company was incorporated on March 29, 1976, and since then it has been consistently catering to the dredging requirements of the major and minors ports across the country and abroad.
The celebrations were led by the MD and CEO, Prof Dr. G.Y.V Victor and attended by the employees, their families, and guests.
In his message to the employees, Shri Mansukh Mandaviya the Hon'ble Minister of State for Ports, Shipping and Waterways expressed confidence that DCIL will soon emerge as a global giant in the field of green and sustainable dredging for Atma Nirbhar Bharat.
Speaking on the occasion Prof Victor outlined the journey of DCI through the years and recollected the invaluable contributions made by the past chairman and all other employees in this stupendous journey spanning four decades.
According to him, DCIL has been a market leader in the maintenance segment. For this year, the company already has 10 maintenance dredging contracts with major ports and around four with minor ports.
"This year, we already have orders for ₹830 crore and projects worth another ₹100 crore are expected. The total work in this segment in India is around ₹1,200 crore," said Prof Victor.
Furthermore, he added that the company's fleet consists of 14 dredgers, including 10 trailing suction hopper dredgers, two cutter suction dredgers, one backhoe dredger and one inland dredger.
"We are augmenting our existing dredgers, especially the trailing suction hoppers, to handle capital dredging and have placed an order with Cochin Shipyard for a new one. With augmentation of the existing fleet, we will be a major player in the capital dredging segment and we intend to increase our share both in the domestic and international market," concluded Prof Victor.
The celebrations, which coincided with Holi (popular Hindu festival), were marked by colourful programs organised by little children of the DCIL employees.