Louisiana Governor, John Bel Edwards, joined the Louisiana Coastal Protection and Restoration Authority (CPRA) and state and local officials yesterday in touring construction activities on Trinity-East Island, one of three barrier islands being restored in the Terrebonne Basin.
The Terrebonne Basin Barrier Island and Beach Nourishment project is using $167 million in funds from the Deepwater Horizon Oil Spill to restore Trinity-East Island, West Belle Headland, and Timbalier Island.
Trinity-East Island is part of the Isle Dernières Wildlife Refuge, a once-popular resort island on Louisiana's Southeast coast. In 1856, Isle Dernière was destroyed by the Last Island Hurricane, causing it to eventually split into five individual islands.
The project, funded by the National Fish and Wildlife Foundation (NFWF), is using 9.2 million cubic yards of dredged sediment to build 1,100 acres of marsh, dune, and beach in the Terrebonne Basin.
Project construction was temporarily halted following last year's hurricane season, but has since resumed with the start of restoration efforts on Trinity-East Island.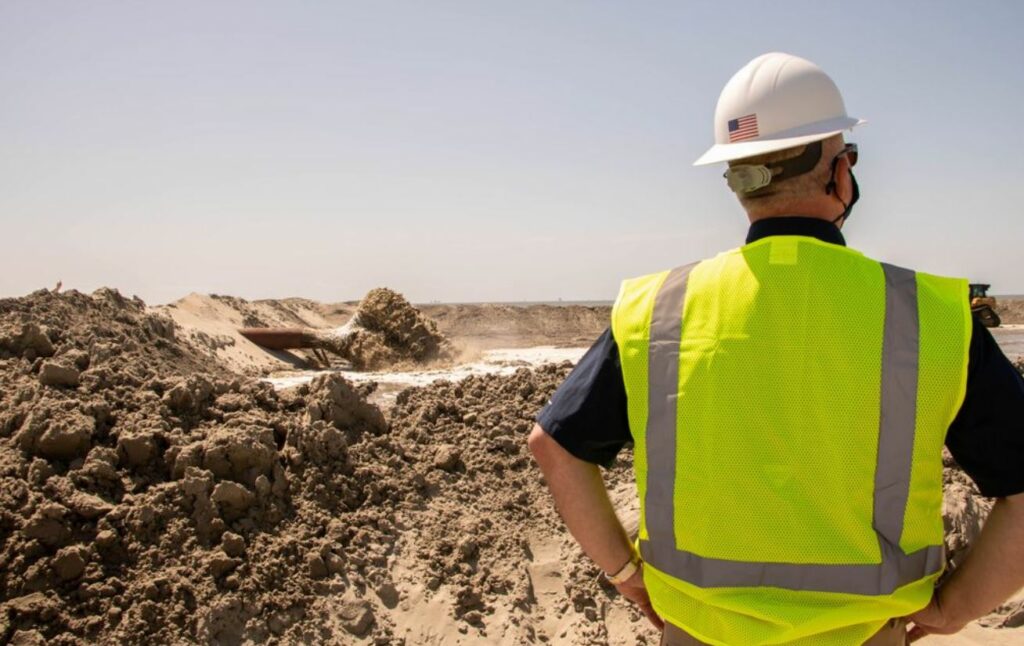 "The Terrebonne Basin Barrier Island project marks a critical point for coastal restoration efforts in Southeast Louisiana," said Governor Edwards.
"CPRA's previously-completed projects prevented 2020's intense hurricane season from becoming even more destructive, and with more resiliency efforts, we are continuing to build a better future for coastal Louisiana. This large-scale project proves just what can be done with great planning and great collaboration."
Trinity-East construction is connecting eroded and vulnerable areas with 2.5 miles of continuous shoreline and 263 acres of beach habitat.
Timbalier Island will see repairs to breached areas and construction of beach and marsh components in a continuous 2.8-mile stretch encompassing 409 acres.
The West Belle Headland project is being redesigned due to impacts from Hurricane Zeta, and could see the addition of approximately 525 acres.
Photo: John Bel Edwards Twitter